WWII Bomb Blows Up Suddenly – Entire Town Rocked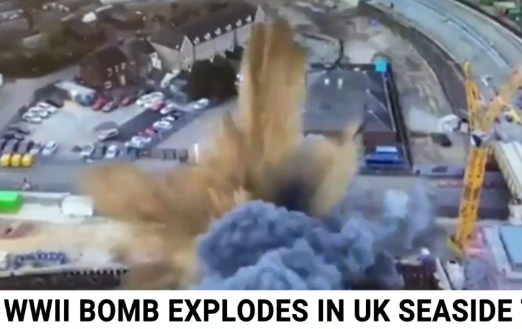 A massive explosion rocked an English vacation resort as an 80-year-old Nazi bomb discovered by construction workers ignited. Army experts were sent in to help, but the antique explosives proved too delicate. Ancient shells and bombs remain a serious hazard in the UK and Europe, which we are fortunate not to have to deal with.
The unexploded bomb in #GreatYarmouth detonated earlier during work to disarm it. Our drone captured the moment. We can confirm that no one was injured. Public safety has been at the heart of our decision making all the way through this operation, which we know has been lengthy. pic.twitter.com/9SaeYmHkrb

— Norfolk Police (@NorfolkPolice) February 10, 2023
Workers constructing a new bridge across the River Yare in the tourist beach resort of Great Yarmouth made an unexpected discovery on February 7: a 550-pound SC250 bomb dropped by the Luftwaffe over 80 years ago. According to a local historian, the bomb was most likely one of six dropped by a German bomber on April 9, 1941. The other five had detonated, but this one had remained at the bottom of the Yare for nearly 80 years, undetected but still alive.
In the United Kingdom, explosive ordnance disposal (EOD) is handled by specialized teams from the Royal Engineers and Royal Logistics Corps of the British Army. An Army squad was sent in to secure the bomb's detonation by clearing and cordoning off a 440-yard circle around it. The troops employed a robot to cut apart the bomb's casing, intending to burn off the explosive material in a controlled "deflagration," but the device blew up unexpectedly. There were no injuries, but there was a "massive" explosion that hurled debris into the air, according to the media.
Scientists believe tens of thousands of unexploded bombs are still buried beneath Britain alone; an estimated 10% of German bombs failed to explode on impact. Europe is in far worse shape, particularly in German towns pounded by intensive RAF and USAAF raids. A German construction worker was killed near Euskirchen in 2014 when a British bomb exploded after being disturbed by a backhoe. Hundreds of Swinousjcie, Poland, residents were evacuated in 2020 when a 5.6-ton RAF Tallboy bomb was discovered at the bottom of a canal; the device exploded as technicians attempted to deflagrate it.
According to experts, these bombs are now more deadly than ever; 80 years underground has rendered their fuses and explosives unpredictable, and many German bombs still have live anti-handling mechanisms. Ordnance from WWII — and even WWI — will be a hazard in Britain and Europe for decades, if not millennia. The United States is fortunate to have avoided the horrific legacy of the bombing.