Man Who Put Boot On Pelosi's Desk Sentenced to Prison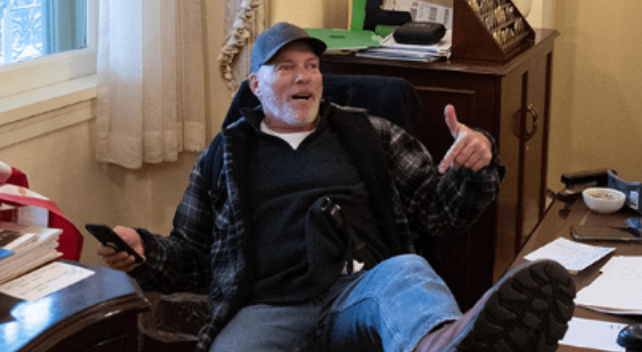 The individual widely recognized for the controversial photograph showing him with his feet resting on a desk in the office of former House Speaker Nancy Pelosi during the January 6, 2021, assault on the United States Capitol has been handed a sentence of four and a half years in prison. Richard Barnett, who is also referred to as "Bigo," was found guilty by a jury in January on eight counts, which included civil disorder. The most severe charge against him, obstructing an official proceeding, carried a potential maximum penalty of 20 years behind bars.
"For better or for worse, you've become one of the faces of January 6, and I think you've enjoyed that," District Judge Christopher Cooper stated.
Happening now:

Richard "Bigo" Barnett, the man who put his feet on Nancy Pelosi's desk on 1/6, has been sentenced to 4.5 years in prison and 3 years of supervised release. Federal prosecutors were asking the judge for 7 years in federal prison. These are the same prosecutors… pic.twitter.com/lOBShaTEpg

— 🇺🇸Travis🇺🇸 (@Travis_in_Flint) May 25, 2023
As per legal records, on January 6, Richard Barnett occupied Nancy Pelosi's office for approximately ten minutes and departed only after being exposed to a chemical irritant. Within that duration, he placed his feet on Pelosi's desk and composed a note addressed to her, utilizing derogatory language by referring to her as "b**ch."
According to court records, it is mentioned that Richard Barnett concealed a stun gun in his trousers while present in the speaker's office, and he also took an envelope from the office. Prosecutors further claimed that upon leaving the Capitol, Barnett exhibited the envelope to fellow rioters as if it were a prize or memento.
Additionally, prosecutors asserted that Barnett proceeded to the Capitol Rotunda and positioned himself among a group of rioters at the forefront, actively engaging in physical confrontation with law enforcement officers.
Barnett's lack of remorse for his actions on January 6 played a role in determining his sentence. According to prosecutor Alison Prout, "The defendant continues to say that his conduct was similar to a 4-year-old temper tantrum." During the sentencing, Barnett spoke to the court and expressed his intention to appeal the case. He stated, "They want me to be remorseful for things I did not do. I'm obviously appealing this case."
Barnett has consistently asserted that he has faced unjust treatment from the legal system and that he will only offer apologies for actions he genuinely believes he carried out during the riot. Barnett chose not to provide any remarks concerning the sentencing. As the couple left the courtroom, Barnett's wife was observed in tears.
Throughout the trial, Barnett testified that he was forcefully pushed into the Capitol during the riot and was merely seeking a restroom inside the building, while simultaneously appreciating the artwork he encountered along his path.