Millions Warned of Possible Evacuation Over Erupting Volcano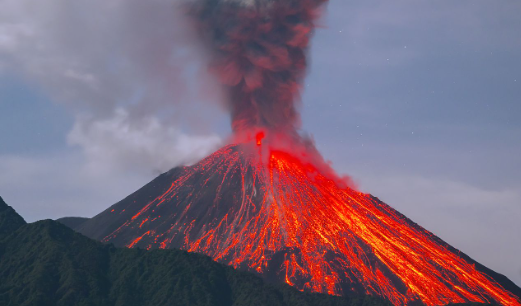 Mexican authorities have issued a warning to millions of individuals, urging them to get ready for a potential evacuation. This caution comes as the nation's most hazardous active volcano has exhibited heightened activity, emitting ash into several neighboring towns since the previous week.
Flights in Mexico City have been disrupted, and numerous municipalities have closed schools due to the ash emanating from the Popocatépetl volcano situated in the central region of the country.
The volcano, positioned approximately 45 miles southeast of Mexico City and spanning the states of Morelos, Puebla, and the state of Mexico, affects a population of around 25 million people residing within a 60-mile radius.
Recently, the National Civil Protection Coordination (CNPC) raised the volcanic threat level to "yellow phase 3." This designation advises approximately 3 million individuals residing in nearby towns and villages to remain vigilant and make preparations for a potential evacuation.
The CNPC issued an additional caution regarding heightened volcanic activity and the rapid dispersal of ash into various adjacent towns. They strongly advised residents in the vicinity to refrain from engaging in outdoor activities as a precautionary measure.
Mexico City's mayor, Claudia Sheinbaum, expressed in a tweet on Sunday, "In the case of Mexico City, the risk is ash fall. We are prepared for that scenario and we know what to do. Let's stay alert."
Airport authorities have reported that Mexico City's Benito Juárez International Airport (AICM) experienced a temporary closure on Saturday and encountered flight delays on Monday. These disruptions were attributed to the presence of volcanic ash in the vicinity, as confirmed by the airport authorities.
State authorities have taken the step to suspend in-person classes in schools across 40 municipalities in Puebla, five municipalities in the state of Mexico, and seven municipalities in Tlaxcala. Instead, classes will be conducted remotely as a precautionary measure.
In addition, the US embassy in Mexico issued a warning on Saturday, alerting the public about the heightened activity of the Popocatépetl volcano since May 15. The volcano has recorded numerous tremors as well as emissions of smoke and ash.
The embassy also advised individuals to avoid traveling within a 7.5 mile radius of the volcano, based on warnings issued by local authorities.
After a long period of inactivity, the volcano experienced an eruption in 1994, marking the end of its dormancy. Since then, the regular rumblings of the volcano have become a routine part of daily life for the local residents.