WH Official CHARGED with Felony Theft!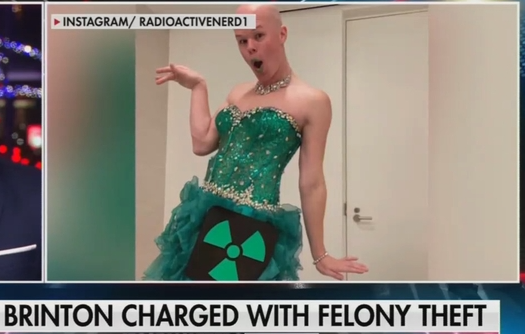 After stealing a woman's suitcase at an airport, a senior Biden administration official made history by becoming the first nonbinary federal official to be charged with a felony.
Less than five months after assuming the role of deputy assistant secretary of the Office of Spent Fuel and Waste Disposition at the Department of Energy, Sam Brinton was accused this month with stealing a suitcase of women's clothing from the Minneapolis-Saint Paul Airport in September. According to a criminal complaint, the stolen Vera Bradley luggage and its contents were valued $2,325.
It's official. As of June 19th, I now serve my nation as the Deputy Assistant Secretary for Spent Fuel and Waste Disposition in the Office of Nuclear Energy in the Department of Energy. pic.twitter.com/zLq3Bf97X2

— Sam Brinton (@sbrinton) June 29, 2022
Brinton, who refers to identifies as genderfluid and uses they/them pronouns, was charged with felony theft on October 27 and could spend up to five years in jail. Brinton was well-known for supporting sexual obsessions and tying his lovers up like dogs before joining the Biden administration. Brenton is in charge of the Energy Department's extremely radioactive nuclear waste disposal.
On September 18, Brinton was seen on security video retrieving a woman's suitcase off the Minneapolis-Saint Paul Airport luggage carousel and quickly hiding the bag tag in a handbag.
On October 9, when approached by a Minnesota police officer, Brinton invented a number of contradictory stories, according to the criminal complaint. When the officer first called Brinton, she at first denied stealing the suitcase. After that, the federal official confirmed removing the luggage but claimed "my clothes" were inside.
Later that day, Brinton revised his story once more. He called the policeman back and apologized for not being totally truthful. The federal agent then asserted that he had unintentionally grabbed the luggage and left the garments in a Minneapolis hotel room. According to the criminal complaint, Brinton claims to have preserved the stolen luggage since it would have been odder to do so than with the clothes.
The officer then gave Brinton the go-ahead to deliver the woman's belongings back to the airport. Brinton had not given the baggage back as of October 27 when the criminal complaint was submitted.
Shortly after being accused of felony theft, Brinton was given a leave of absence from the Department of Energy, according to Exchange Monitor. On November 18, Brinton's successor, interim deputy assistant secretary for spent fuel Kim Petry, informed the office's staff that she would be in charge for the conceivable future.