Airline Passenger Is ARRESTED – Tries to Open Plane Door!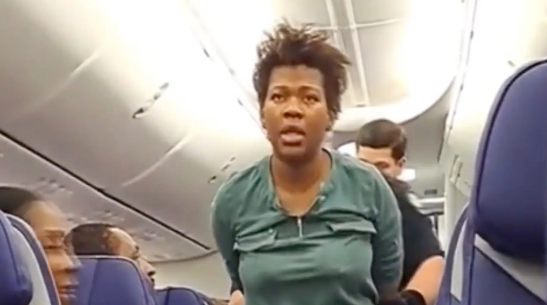 According to court filings, an irate Southwest Airlines customer who attempted to open the plane's door mid-flight and bit another passenger said "Jesus told her" to do it.
On a Saturday afternoon flight from Texas to Ohio, Elom Agbegninou, 34, allegedly lost her cool because the flight attendants were preventing her from using the emergency exit.
When another passenger stepped in to tackle Agbegninou, she retaliated by biting them on the thigh and wouldn't release until they pressed their fingers into her jaw.
The documents made public by the US District Court for the Eastern District of Arkansas on Monday disclose that the insane woman then started banging her head against the plane's floor while yelling that "Jesus told her to fly to Ohio and Jesus told her to open the door."
Around 3:30 p.m., the chaotic disruption ultimately caused the Southwest flight to make an emergency landing at Little Rock's Bill and Hillary Clinton National Airport. – lengthening the journey from three hours to six.
Agbegninou was taken away by police after landing safely, and the bitten victim received hepatitis shots and medicines.
Yu filmed the incident, in which Agbegninou can be seen yelling even as he is being escorted from the aircraft.
Agbegninou allegedly told police she had left the house early on Saturday morning without telling her husband and that she intended to visit a family friend in Maryland following the incident.
She added that she hadn't traveled in a while, grew really anxious, and didn't generally do those things.
Agbegninou is anticipated to be charged with interfering with flight attendants and crew members as well as assault under maritime and territorial jurisdiction, according the criminal complaint.