VP Harris Booed at NCAA Tournament Game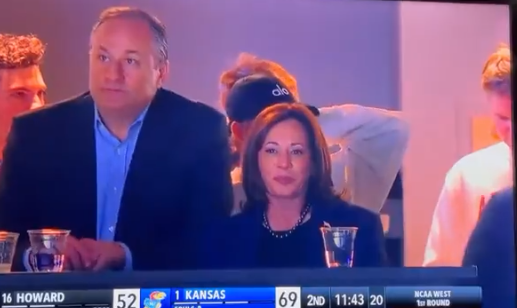 While watching an NCAA Tournament game on Thursday, Vice President Kamala Harris received a barrage of jeers. Her old institution Howard University suffered a crushing defeat in a March Madness first-round match.
The booing at the men's basketball game in Des Moines, Iowa's Wells Fargo Arena were louder than the cheers when the veep was displayed on the video screen.
The top-seeded University of Kansas Jayhawks destroyed the Howard Bison in the west region contest by a score of 96-68, as observed by Harris, a 1986 alumnus of Howard.
After Howard's defeat, Harris, who was sitting in a suite with her husband, second gentleman Doug Emhoff, thanked the players for their hard work and successful season.
Vice President Kamala Harris is BOOED by the crowd at surprise March Madness appearance in Iowa and as she watches her alma mater Howard University fall to top-seeded Kansashttps://t.co/9xtPTjs6ez

— Pureblooded Patriot (@yellowstone1776) March 17, 2023
"You guys are so good, you guys are so good. You played hard, you played to the very last second, you made all us Bisons so, so proud. You are smart. You are disciplined. You put everything you had into the game. And you know that's what it's about, right. Until the last minute, you guys did that, you didn't stop until the last second, you did not stop, and that is so inspiring. So you keep playing with your chin up and shoulders back because you showed the world who Bison are," Harris said as she greeted the group and cheered them on.
Before their defeat on Thursday, the historically black university from Washington, DC, earned its first appearance in the men's NCAA tournament since 1992. It was the third time the program has ever attended the Big Dance.