BREAKING: Trump Says He Will Be Arrested On Tuesday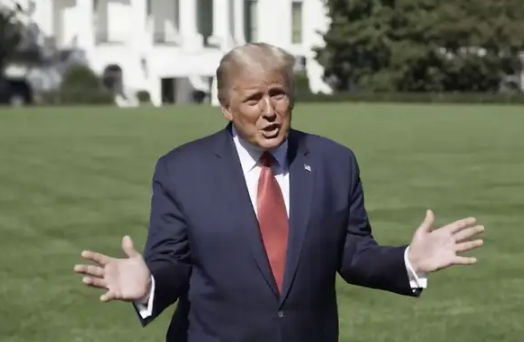 President Trump suggested in an early Saturday morning post on Truth Social that he will be arrested on Tuesday, as the Manhattan District Attorney appears likely to charge him in the investigation into a "hush-money payment" made to Stormy Daniels in 2006.
He went nuclear in the following Truth Social post:
"NOW ILLEGAL LEAKS FROM A CORRUPT & HIGHLY POLITICAL MANHATTAN DISTRICT ATTORNEYS OFFICE, WHICH HAS ALLOWED NEW RECORDS TO BE SET IN VIOLENT CRIME & WHOSE LEADER IS FUNDED BY GEORGE SOROS, INDICATE THAT, WITH NO CRIME BEING ABLE TO BE PROVEN, & BASED ON AN OLD & FULLY DEBUNKED (BY NUMEROUS OTHER PROSECUTORS!) FAIRYTALE, THE FAR & AWAY LEADING REPUBLICAN CANDIDATE & FORMER PRESIDENT OF THE UNITED STATES OF AMERICA, WILL BE ARRESTED ON TUESDAY OF NEXT WEEK. PROTEST, TAKE OUR NATION BACK!" Trump posted.
He also posted the following:
On Friday, Fox News released the following shocking report:
"We are learning that the Manhattan DA's office has asked for a meeting with law enforcement ahead of a potential Trump indictment. This is coming to Fox News from a source in the courts. The meeting, which was requested yesterday and has not been set yet, is to discuss logistics for some time next week, which would mean that they are anticipating an indictment next week. The same source familiar with the planning said they will go over security preparations in and around the courthouse in lower Manhattan. Secret service will take the lead in what they will allow or will not allow."
WATCH:
If this happens, it will be the beginning of Trump's reelection. https://t.co/sQJsHsrib0

— Viva Frei (@thevivafrei) March 17, 2023
"The source cautioned mentioning, for instance, the decision to handcuff the former president or not. They will set the tone and will escort him into the courtroom. There will be coordination between all of us the source said, but we will defer to the secret service. The battle will be between secret service and DA Alvin Bragg. They will decide how and when he'll get into the building and they are not going to leave him."
"The source believes that the former president will still have to be fingerprinted and processed like every other defendant. So this is a huge development if Alvin Bragg has decided to go ahead with the felony indictment of the former president. This was a charge that the federal officials refused to prosecute on or even really pursue. This was a misdemeanor in New York that Alvin Bragg has decided to elevate to a felony while at the same time downgrading other felonies to misdemeanors. So we'll be watching this to see how it all unfolds to get more information that comes in."
Elon Musk predicts that if this occurs, Trump will win the 2024 election by a "landslide":
If this happens, it will be the beginning of Trump's reelection. https://t.co/sQJsHsrib0

— Viva Frei (@thevivafrei) March 17, 2023