Video of Trump Being Prayed for at South Carolina Eatery Viewed 1.9M Times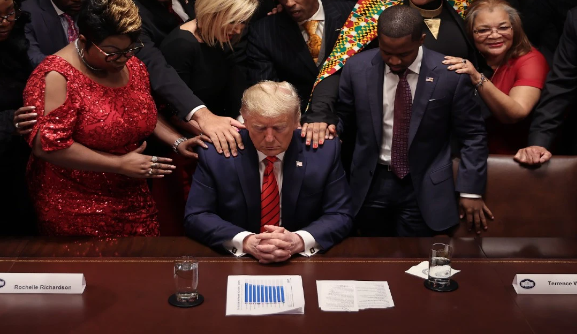 Former President Donald Trump was greeted warmly after the launch of his 2024 campaign in South Carolina, as seen in a viral video shared by his staff.
On Saturday, Trump and other members of his team stopped by a Zesto's in Columbia, the state's capital city, to meet with supporters and pick up food. In a video posted to social media by Margo Martin, a member of Trump's communications team, the former president meets with a burger chain employee who appears emotional and says a prayer for him.
Martin stated in her tweet that the video showed "the real [Donald Trump] that the media won't show you."
This is the real @realDonaldTrump the media won't show you! pic.twitter.com/APKZJ2vMEt

— Margo Martin (@margommartin) January 29, 2023
The 15-second video received 1.9 million views on Twitter as of Sunday morning. It was also shared by Ron Filipkowski, a former federal prosecutor and current media analyst known for his consistent criticism of Trump, who had a different reaction to the video than Martin, jokingly tweeting, "Praise the Lord for Donald Trump and fast food!"
Praise the Lord for Donald Trump and fast food! Amen. pic.twitter.com/HU6gzCKT5h

— Ron Filipkowski 🇺🇦 (@RonFilipkowski) January 29, 2023
Replies to Filipkowski's tweet were similarly venomous, with some reiterating previous skepticism of Trump's claims of being a Christian and others bringing up his numerous allegations of marital infidelity and sexual misconduct.
So far, Trump is the only major declared candidate for the 2024 presidential election, seeking reelection to the White House after losing to Joe Biden in 2020. The former president announced his candidacy in November, shortly after the Republican Party had a historically poor midterm election performance, losing a Senate seat and winning the House by a razor-thin margin.
Those outcomes were widely attributed to Trump's negative influence, with the former president's endorsements of various extremist and unqualified candidates appearing to drive away moderate Republicans and independent voters.
Despite calls for him to step down from a prominent role in the Republican Party, Trump pursued his reelection campaign, ostensibly in the hope that a campaign would keep certain federal indictments at bay. With the midterm elections looming, many criticized Trump's campaign announcement as lackluster and uninspiring.
While no other Republicans have declared for 2024, many see Florida Governor Ron DeSantis as Trump's main opponent for the Republican nomination. Florida Republicans fared well in the midterm elections, and DeSantis has consistently sought national attention with his various culture-war-inspired policies.
Meanwhile, polls have been mixed, with some showing Trump maintaining a strong hold on the GOP and others showing DeSantis siphoning off his support.