Veteran Takes Down Knife-wielding Man In Walmart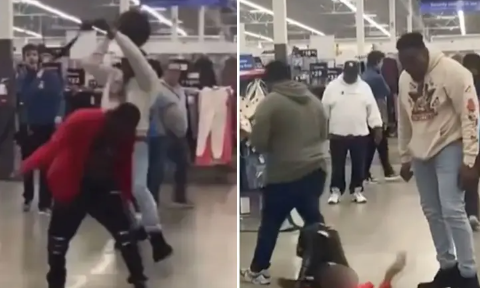 Last Wednesday at a Walmart in South Carolina, a guy with a knife threatened employees and customers before being subdued by a veteran, according to surveillance footage of the incident.
According to witnesses and the Richland County Sheriff's Department, the man was yelling and threatening to slash people with a pocket knife inside the store in Columbia.
Veteran Demario Davis, who was out shopping with his son, noticed the insane man and waited for his chance to step in.
"I was at the checkout when my son noticed the guy walk in with the knife open. He then proceeded to the service desk waving the knife at a few female employees."
The man allegedly shouted, "when the cops get here, I'm going to start cutting you all up."
According to Davis, the man tried to cut the other client in the face when he tried to stop the man.
"That's when my military training kicked in and I casually walked over to the object not only to take him down but also protect myself in case I failed, but with my great military training, I was able to neutralize the threat until law enforcement arrived," Davis added.
Davis can be seen on video grabbing a stanchion and hitting the man in the back of the head. Another patron steps over him and immediately picks up the knife when the man drops it as he hits the ground.
Until the deputies arrived, the patrons restrained the man. The male, according to the sheriff's office, was sent to a hospital for assessment.