Ukrainians Are Poisoning Pastries And Giving Them To Russian Soldiers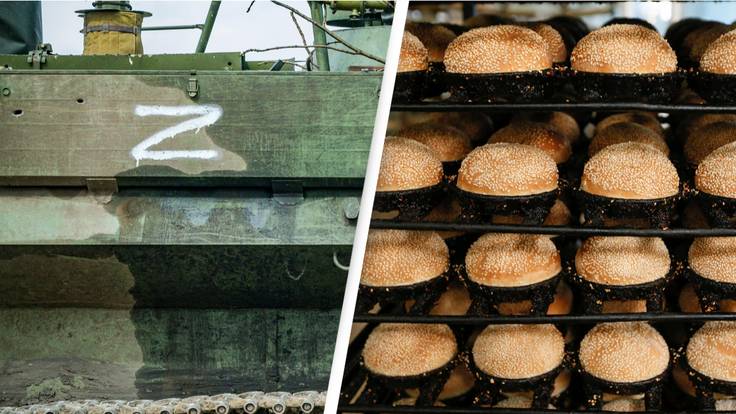 Officials allege that two Russian troops were murdered after Ukrainian residents poisoned their food and drink.
In a Facebook post on Saturday, 2 April, Ukrainian officials reported that two Russian servicemen were killed and 28 were hospitalized after being given poisonous cakes in the Ukrainian city of Izium.
Another 500 Russian servicemen were reportedly hospitalized due to alcohol poisoning.
UNILAD was unable to independently verify the allegations.
"Ukrainians resist the occupiers by all available means. According to the available information, the locals of the Izzyum district cooked Russians from the 3rd Russian motor rifle division with poisoned cakes," according to a post from Ukraine's Main Directorate of Intelligence. 
"As a result, two invaders were killed at once, another 28 went to intensive care. Their current state is to be specified."
The message went on to say that 500 Russian Federation soldiers from the 3rd division were hospitalized due to 'unknown' alcohol intoxication.
"Russian command writes off these cases on the so-called not combat losses", it added.
The suspected poisonings took place in Izium, which is located in eastern Ukraine's Kharkiv region.
Kharkiv has been subjected to some of the war's most intense bombardments. Morgues in the city are claimed to be straining to cope with the hundreds of deaths and thousands of injuries.
Despite this, the city is holding out, with one resident, Ihor Aponchuk, said, "They can bomb us for as long as they want: we will withstand it."
"We are scared, but we need to show people that the situation is under control and every day we are getting closer to victory," governor Oleh Synyehubov stated.
President Volodymyr Zelenskyy renamed Ukraine's second-largest city the hero city earlier this month for its bravery in resisting Vladimir Putin's invasion.
Kharkiv was given the title for the first time during World War II, as it stood firm against Nazi troops.