Putin's Tank Troops Walk into Huge Ukraine Ambush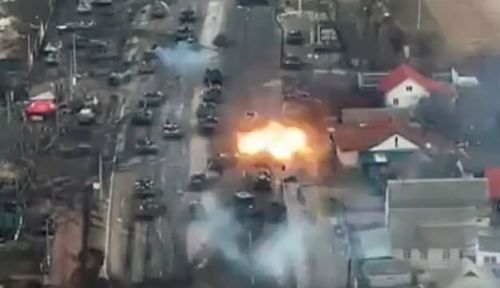 The Russian tyrant Vladimir Putin's tank forces have suffered a serious setback in their attempt to overrun Kyiv, Ukraine's capital.
In what appears to be the worst urban ambush by Ukrainian defenders since Putin's criminal invasion of their country 15 days ago, an entire Russian tank regiment appears to have been wiped out.
For the past two weeks, the much-anticipated struggle for Kyiv has been in the building. Despite the fact that the main Russian forces had reached Kyiv's suburbs, Putin's hordes had not launched a full-fledged attack on the Ukrainian city until Thursday morning.
#Brovarsky district. The Armed Forces of #Ukraine and volunteer batallions are repelling #Russian occupiers. pic.twitter.com/H52EkwtwlT

— NEXTA (@nexta_tv) March 10, 2022
A massive Russian tank column pushed on Brovary, a town of 110,000 people and a Kyiv suburb in the east, while fierce battle raged around the town of Irpin.
The Russian move, on the other hand, has resulted in a true carnage for Putin's tank men advancing along a highway.
They were attacked and suffered terrible losses. With artillery, anti-tank missiles like the US-made Javelins, UK-made NLAWs, and Turkish-made Bayraktar battle drones, the valiant Ukrainians pounded Putin's armor.
As hundreds of Russian tanks were entering Brovary, drone video footage shared only by the Ukrainians showed them taking a succession of heavy hits and exploding. Those who had been caught off guard in the massive ambush raced back.
#Markhalivka. A man lost his entire family to a #Russian airstrike on residential houses. Only his cat survived. pic.twitter.com/ctven2D365

— NEXTA (@nexta_tv) March 10, 2022
The validity of the recording has not been independently verified, but it appears to be genuine. The events depicted in the drone film appear to match the account of the Russian officers' chatter.
According to the Ukrainian Defense Ministry's daily report, more than 12,000 Russian troops had been killed in Ukraine as of Thursday morning.
In barely two weeks of warfare, 335 Russian tanks, 1,105 armored personnel carriers, 123 artillery pieces, 526 vehicles, 81 attack helicopters, and 49 warplanes have been destroyed, resulting in significant casualties for Putin's forces.
On both sides, Ukrainian victories over Russian hordes pushing on Kyiv happened against a backdrop of Russian attacks on military and civilian objectives, killing hundreds of Ukrainians.
The Russian bombing of a maternity facility in the besieged seaside city of Mariupol, which was full of infants and pregnant women, was the most shocking development.