U.S. Navy Hires Active-Duty Drag Queen to Boost Recruitment Numbers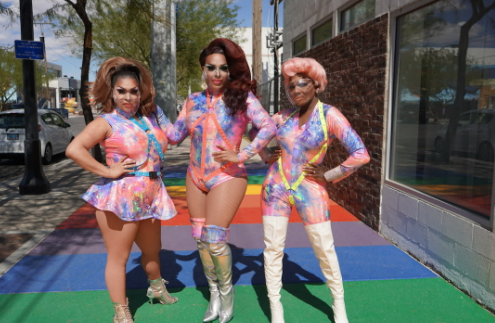 The prevalence of the left's woke and progressive agenda in American society has extended to all areas, which has made the United States appear weaker to other nations. To address a decrease in recruitment, the U.S. Navy employed an active-duty drag queen as a "Digital Ambassador" to entice men to enlist in the military branch.
The U.S. Navy's decision to hire an active-duty drag queen, Yeoman 2nd Class Joshua Kelley, as a "Digital Ambassador" to attract more men to join the Navy may not be effective in recruiting the right candidates. Some people fear that this approach may attract only feminist men who are easily offended and not suitable for military service. Kelley, who performs under the stage name "Harpy Daniels," is a TikTok influencer with over 1.3 million likes on the platform.
The military has a huge recruiting/retention crisis because they went woke. How did they try to fix it? By going more woke. Meet Joshua Kelley. Drag name Harpy Daniels. U.S. Navy named him Digital Ambassador to recruit new demos to join the Navy. Insane. pic.twitter.com/2DWOAIgWr4

— Robby Starbuck (@robbystarbuck) May 2, 2023
Although Kelley claims to be an advocate for those who have been oppressed in the service, the performer's opinions are not endorsed by the Department of Defense or the Department of the Navy. In an Instagram post, Kelley expressed gratitude to the Navy for the opportunity to share their drag experience with fellow sailors and to continue being an advocate and representation of queer sailors.
In an interview with the USS Museum Constitution, Yeoman 2nd Class Joshua Kelley, also known as "Harpy Daniels," stated that he participated in a lip sync competition while deployed on the aircraft carrier USS Ronald Reagan. For the performance, he dressed in full drag, complete with hair and makeup resembling a pin-up doll. Kelley claimed that his performance, which he described as "woke drag," had a positive impact on someone who was feeling suicidal, who then thanked him for momentarily helping them forget their struggles.
Kelley has reportedly expressed a desire to compete on the reality show RuPaul's Drag Race as one of the first active service members to do so, rather than focusing on his duty to protect the country.
Fox News was informed by a Navy representative that the Navy is currently reviewing the structure of the program, which previously had five active-duty members, and determining how it will continue in the future.
This program was initiated as the Navy is seeking to expand its numbers to 347,000 service members by 2024, which is an increase from the current 341,736 serving in fiscal year 2023.