KJP Brazenly Spews More Border Lies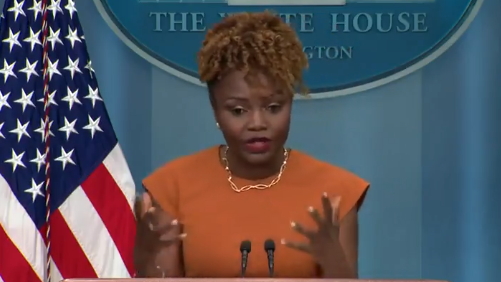 Karine Jean-Pierre, the press secretary of the White House, has faced criticism for her recent remarks on the ongoing border crisis. During a press briefing on Thursday, Jean-Pierre mentioned that the administration views the problem with great concern.
Doocy to WH press sec: "If the border is secure as the administration has said, then why would we need to send 1500 active duty US troops down there?" pic.twitter.com/6q9H4AwGu8

— The Post Millennial (@TPostMillennial) May 2, 2023
Despite Jean-Pierre's comments, some individuals have disregarded them as another effort by the administration to conceal the reality of what is happening at the southern border. The circumstances have deteriorated since Biden's inauguration, with unprecedented numbers of migrants illegally crossing the border and straining the resources of border patrol.
Karine Jean-Pierre: "When it comes to illegal migration, you have seen it come down by more than 90%, and that's because of the actions that this president has taken." pic.twitter.com/SQLYz1Jawc

— RNC Research (@RNCResearch) May 1, 2023
Between 2016 and 2020, the average yearly count of illegal crossings at the US-Mexico border was 479,005. However, for the years 2021 and 2022, the average has substantially increased to 1,938,409. On Tuesday, Joe Biden revealed that 1,500 US troops would be deployed to the southern border to ease the burden on law enforcement and Border Patrol staff.
The announcement of sending troops to the southern border occurred only one day after Jean-Pierre asserted that the border was secure.
"This is an administration that has taken the challenges that we see at the border very seriously since day one."

6.3+ million illegal immigrants have crossed the border since Biden took office.pic.twitter.com/GhZDXgaT19

— RNC Research (@RNCResearch) May 4, 2023
For a period of 90 days, the troops will primarily carry out administrative and transportation tasks. Detractors have criticized the administration for employing the lifting of Title 42, a public health order introduced during the COVID-19 epidemic, as a pretext for their flawed immigration strategies. The US Department of Defense has affirmed that the deployment is comparable to other forms of military assistance to DHS provided over several years.