New York's Democratic mayor lashes out at Biden administration over border crisis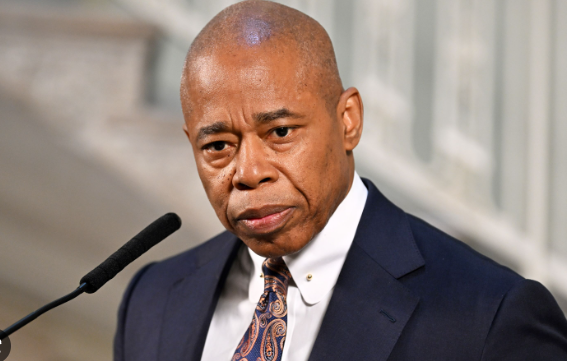 For years, New York City has been considered a bastion of liberal politics, as evidenced by the fact that four out of its five boroughs supported President Joe Biden in the 2020 election. Nevertheless, the ramifications of Biden's unsuccessful border policy recently led Democratic Mayor Eric Adams to express his disapproval.
The Washington Examiner reported that Adams made the remarks during a press conference on Tuesday in response to a question from a reporter about whether his recent criticisms of illegal migrants straining city resources could fuel an anti-immigrant sentiment.
"It is not about the asylum-seekers and migrants. All of us came from somewhere to pursue the American dream. It's not about the people who are pursuing the American dream. It's the irresponsibility of those that are allowing them to come to a country and not build the infrastructure to allow them to pursue their dream," Adamns insisted.
Adams was prompt to attribute the issue to the Republican Party's negligence in Washington, D.C. for not enacting actual immigration reform.
However, he then unexpectedly criticized the White House's carelessness for not dealing with this problem. Adams emphasized that cities like his should not have to bear the burden of Washington, D.C.'s failure.
"The national government has turned its back on New York City. Every service in this city is going to be impacted by the asylum-seeker crisis," as reported by The Examiner, the mayor's comments resemble a statement he made at the end of last month.
According to the New York Post, Hank Sheinkopf, a political advisor, stated that Adams' readiness to condemn the Biden administration is unlikely to be imitated by most of his peers.
"He's trying to throw the weight off him onto the President, whom he's criticized before, and it's very unlikely that big city mayors or the federal officials want to join him. They cannot criticize an incumbent president, which is what Adams has done this week. They're thinking: "You never come back from attacking the president of your own party," he said.
According to Fox News, Lori Lightfoot, the departing Democratic Mayor of Chicago, condemned Republican Governor of Texas Greg Abbott for relocating immigrants to her city.
In response, Abbott wrote a letter stating that the continuing border and humanitarian crisis in Texas and the entire country is a direct consequence of President Biden's open-border policies. He lamented that illegal immigration had been at its lowest levels in years during the previous administration but now, with the imminent end of Title 42 expulsions next week, President Biden is about to open the floodgates, and Texas is on the front lines of this disaster.