Twitter Savages Biden After He Wanders From Podium, Appears To Need Help Getting Off Stage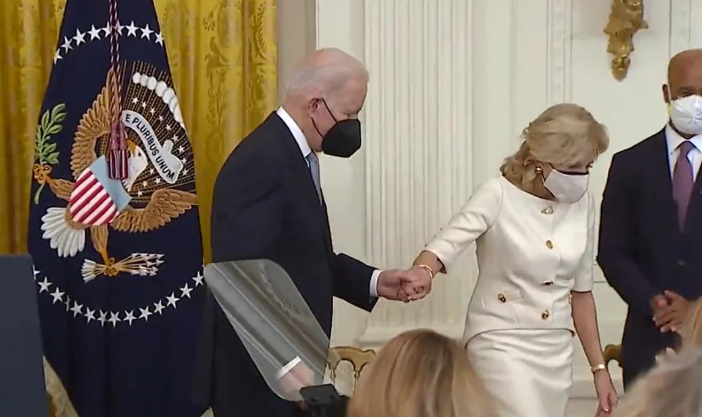 Following a speech announcing plans to relaunch the White House's "Cancer Moonshot" initiative on Wednesday, President Joe Biden appeared to get lost as he left the podium, first going in the wrong direction, then turning back to shake hands with several officials before apparently being reminded to put on his mask by Sen. Amy Klobuchar (D-Minn.). Finally, with a little help from first lady Jill Biden, Biden was taken off the platform.
What has been the response?
Twitter users can always be counted on to point out the president's flaws. First, Biden repeated his weird whispering. Why isn't someone telling him to stop?
WHAT is this creep talking about? pic.twitter.com/UIH6LfmNVK

— Danny De Urbina (@dannydeurbina) February 2, 2022
After finishing his thrilling address, the president walked away from the podium in the opposite direction, then returned to do more maskless handshaking before being reminded to put on his mask by Sen. Klobuchar.
Joe Brandon forgets his mask, roams around the White House— breathing on people and shaking their hands.

Sen. Klobuchar is caught on camera seemingly reminding him.

WATCH. pic.twitter.com/FUmJMMxwr3

— Benny Johnson (@bennyjohnson) February 2, 2022
Finally, the first lady rescued him and brought him off the platform, holding his hand as he stumbled and appeared to be losing his equilibrium. "So much strength communicated here," a video captioned on Twitter.
So much strength being communicated here… pic.twitter.com/yfY5dCuEcm

— Danny De Urbina (@dannydeurbina) February 2, 2022
The response on Twitter was less than favorable:
Putin is raising the white flag after this display of power. pic.twitter.com/OlU80PQAhJ

— Unicorn Spit (@UnicornSpit3) February 2, 2022
WTF man. This is the leader of the free world, lovely.

— The Girl That Wasn't There (@IndyAnn64366140) February 2, 2022
At least one person appears to have sought to defend the president with a "unnecessary Trump reference," according to another Twitter user.
February 2, 2022