Russia Rains Fire On Ukraine After Bridge Attack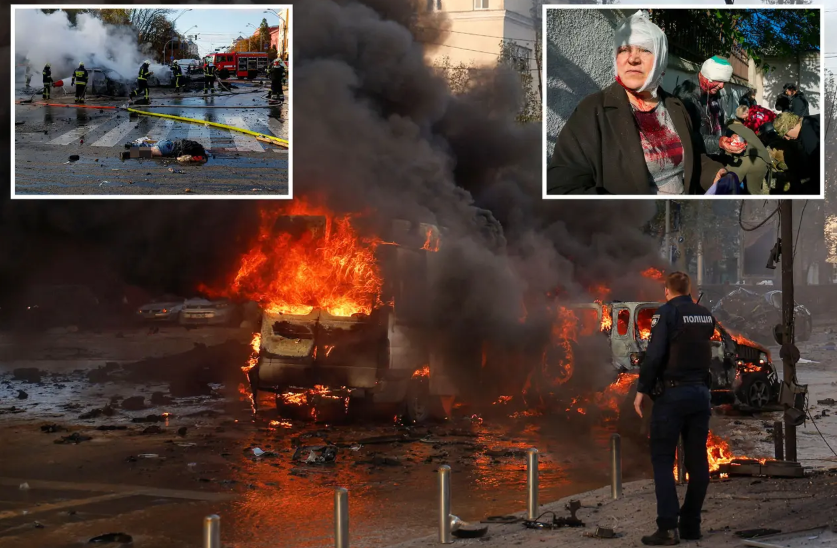 On Monday, Russia unleashed further havoc on Ukraine by launching devastating missile strikes on multiple towns, including the capital city of Kyiv. Ukrainian President Volodymyr Zelensky claimed that this dreadful escalation was part of an effort to "erase" his country "from the face of the Earth."
By mid-morning, at least 81 cruise missiles had been launched at eight districts, but only about half had been intercepted, according to Ukraine's military ministry.
Explosions were reported in Lviv, Ternopil and Zhytomyr in Ukraine's west, Dnipro and Kremenchuk in central Ukraine, Zaporizhzhia in the south and Kharkiv in the east, many hitting at rush hour.
Disturbing pictures from Kyiv showed people covered in blood wandering through streets that were still on fire in the city's old center, where major government buildings are located.
One of the strikes in Kyiv, which had been largely unaffected in recent months, resulted in at least eight deaths and 24 injuries.
Zelensky insisted that Russia deliberately timed the attacks "to inflict the most damage."
"They are trying to destroy us and wipe us off the face of the Earth," the president said. "The air raid sirens do not subside throughout Ukraine. There are missiles hitting. Unfortunately, there are dead and wounded."
People react outside a partially destroyed multistorey office building after several Russian strikes hit the Ukrainian capital of Kyiv on October 10, 2022, amid Russia's invasion of Ukraine.
Later, Russian President Vladimir Putin claimed that the strikes were a justifiable response to Kyiv's "terrorist acts," including the enormous explosion that damaged a significant bridge leading to the Crimean Peninsula under Moscow's control early on Saturday.
He promised further bloodshed that would be "tough and proportionate to the level of threats."
However, Ukraine Foreign Minister Dmytro Kuleba said that "this nonsense about Putin being 'provoked' must stop. He does not need anything to 'provoke' him in order to commit heinous crimes."
Putin only employs terror against tranquil Ukrainian cities. Kuleba, who cut short his trip to Africa and returned to Ukraine, insisted that Putin was a terrorist who communicated with missiles.
The morning strikes sent Kyiv residents back into bomb shelters for the first time in months. The city's subway system stopped train service and made the stations available once more as bomb shelters.
Distressing images from there showed the body of a man in jeans in a street at a major intersection, surrounded by flaming cars. In a park, a soldier cut through the clothes of a woman who lay in the grass to try to treat her wounds. Two other women nearby were bleeding.
More volleys of missiles struck the capital again later in the morning. Pedestrians huddled for shelter at the entrance of metro stations and inside parking garages.
Video also showed a missile hitting a glass-bottomed footbridge in the city center, one of Kyiv's most popular tourist sites, with at least one pedestrian running away from the blast.
Other sites where explosions were reported by Ukrainian media included Kharkiv, Ternopil, Khmelnytskyi, Zhytomyr, and Kropyvnytskyi, which has served as a haven for many people fleeing the conflict in the east.
Kharkiv was hit three times, Mayor Ihor Terekhov said. The strikes knocked out the electricity and water supply. Energy infrastructure was also hit in Lviv, Regional Governor Maksym Kozytskyi said.
Associated Press journalists in Dnipro city saw the bodies of multiple people killed at an industrial site on the city's outskirts. Windows in the area had been blown out and glass littered the street.
Three cruise missiles launched against Ukraine from Russian ships in the Black Sea crossed Moldova's airspace, the country's Foreign Affairs Minister Nicu Popescu complained.
The strikes came two days after an explosion damaged the only bridge over the Kerch Strait to the Crimea peninsula, which Putin on Sunday called an act of terrorism by Ukraine's special services.
The bridge, which Putin personally opened, is a major supply route for Russian forces in southern Ukraine and a symbol of Russia's control of Crimea, the peninsula it proclaimed annexed in 2014.
Ukraine has not claimed responsibility for the blast, but has celebrated it. Senior Russian officials demanded a swift response from the Kremlin ahead of a meeting of Putin's security council Monday.
"Russia can only respond to this crime by directly killing terrorists, as is the custom elsewhere in the world. This is what Russian citizens expect," Russian Security Council Deputy Chairman Dmitry Medvedev said.
On Monday, pro-Putin Chechen leader Ramzan Kadyrov hailed the deadly retaliatory attacks on Ukraine.
"Now I am 100% satisfied with how the special military operation is being conducted," he said.