Putin Seen Shaking Uncontrollably In Latest Video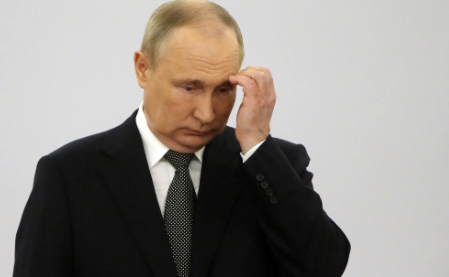 Vladimir Putin was observed trembling and straining to stand during an awards ceremony at the Kremlin, reigniting speculation about the Russian president's worsening health.
After awarding filmmaker Nikita Mikhailov the Russian Federation's State Prize on Sunday, video recorded the president looked unsteady, swaying back and forth.
Putin, 69, shook his legs and held his arms straight at his sides as he stood near the podium.
The disturbing video surfaced after his physicians apparently warned him not to make any long public appearances due to his deteriorating condition.
The assertion was made on the General SVR Telegram channel, which is allegedly managed by a Kremlin military source.
Last Monday, the account claimed that after appearing on camera with advisers a few days before, Putin became unwell, suffering from a strong illness, weakness, and dizziness.
Rumors that Putin had cancer, Parkinson's illness, or early-stage dementia have troubled him.
According to the article, two additional people, one from the Defense Intelligence Agency and the other a former Air Force officer, claimed to have access to a detailed intelligence evaluation of Putin's health and indicated his prognosis is grim.
Putin is apparently becoming increasingly nervous about his position and may have escaped an assassination attempt in March, according to the intelligence community.
While meeting with his military minister in April, the Russian president was observed uncomfortably grasping a table.
Since the beginning of Putin's invasion of Ukraine, rumors of his demise have circulated.
According to Russian investigative site The Project, Putin also bathes in blood derived from deer antlers, which are chopped off while still developing and full of fresh blood.
Putin's health is not in question, according to the Kremlin.