Putin Enjoys Dancers in Huge Secret Palace While Threatening the West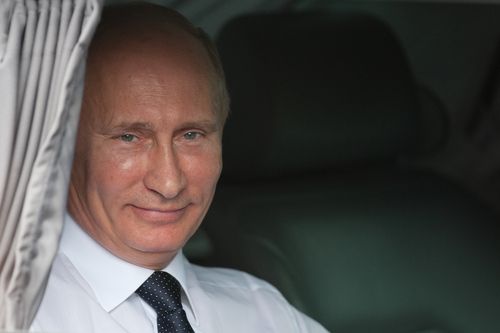 Putin nominally serves as the president of the Russian Federation as a civil servant, but there have been media claims about his hidden wealth for more than 15 years.
Secret images were disclosed in a fresh probe released on Thursday by the Anti-Corruption Foundation (FBK), a Russian anti-regime NGO.
These photographs are said to be from Vladimir Putin's so-called secret mansion at Gelendzhik on the Black Sea Coast.
The supposed inside images depict Putin's hidden Black Sea palace's lavish, though odd, decor.
Putin's retreat contains a private theater, a casino, a bedroom that is its own architectural and infrastructure complex, and a large indoor swimming pool surrounded by antique-looking pillars.
A bar with a pole-dancing stage is maybe the most eye-catching sight of all.
The background of the pole features a strange, Middle Eastern-looking tower theme.
As of Friday, the Anti-Corruption Foundation of imprisoned whistleblower Alexey Navalny's YouTube video disclosing photographs from Putin's secret castle had received four million views.
Navalny's NPO uncovered Putin's astonishing secret castle in a video that has already received over 121 million views on YouTube in 2021, with Navalny himself as the video host.
More photos leaking from Putin's Palace, including the pole dancing room @Navalny's organisation published about. https://t.co/0lunzaLBQ9

— Eliot Higgins (@EliotHiggins) January 20, 2022
479 Photographs of Putin's Palace. Have fun https://t.co/2angGTFsME https://t.co/Y43wCk8jLE

— Timmi Allen (@Timmi_Allen) January 20, 2022
Last year's inquiry into Putin's hidden palace sparked such outrage, even in Russia's state-controlled media, that he was obliged to deny any involvement.
Subsequently, Arkady Rotenberg, one of Russia's richest oligarchs and a very close personal friend of Putin's, said he is the genuine owner of the mansion.
This was regarded as proof that Putin is enjoying the palace in between the war threats, bullying, and attacks against Russia's neighbors that he has been engaged with since 2014.