Protester Charged With Punching Cops Had Previous Brush With Law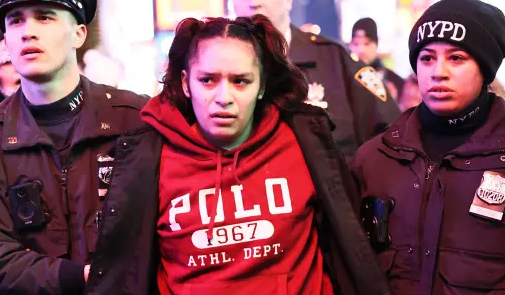 A woman who was detained on assault charges after reportedly punching two police officers in Times Square during a Tyre Nichols protest was released without bail on Saturday.
Candy Nicole, 25, was freed on her own recognizance after appearing in Manhattan Criminal court, and the district attorney's office did not object.
An attorney for Nicole stated that during the Friday night protests, which featured a guy who cracked the window of an NYPD patrol car with his foot, her client was a victim of excessive police action.
Caroline Glickler, Nicole's attorney, stated that Nicole maintains her innocence.
Nicole was previously detained in October after an alleged instance of forceful contact in Harlem, where it is said that she grabbed her male partner's testicles during an altercation.
Residents of the building claim that Nicole, who is due back in court on March 20 on the Times Square assault accusation, did not dwell at the East 28th Street address she gave police.
Along with Nicole, two other people were detained, including a career criminal with a violent record named Argenis Rivera, 33, and Manhattan resident Katherine Stone, 34.
Authorities discovered Rivera's arrest in October for allegedly strangling a mother pushing her 2-year-old in a stroller in Chelsea and ordered him held on $10,000 bond.
He is accused of causing criminal mischief after breaking the windshield of an NYPD cruiser. If Rivera was freed from prison, a judge approved a lawyer's request for house arrest and electronic monitoring.
His parents told The Post that despite being a young child, he was always difficult to control and always went against their wishes. His parents declined to reveal their names.