NYC Mayor Thinks Republicans Are Human Rights Abusers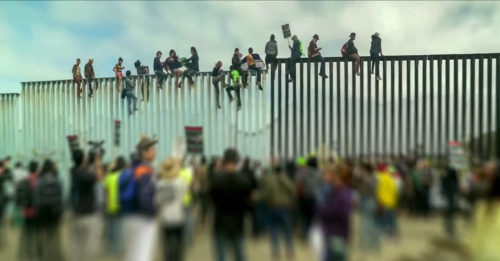 Eric Adams, New York City's mayor, accused Ron DeSantis, Florida Governor, and Texas Gov. Greg Abbott of covering-up human rights violations by sending illegal immigrants to blue cities.
Adams claimed that both Republican governors promote gun violence in America. Therefore, illegal immigrants are being sent to blue cities by the Republican governors to cover their oppression.
Liberal Mayor Goes to Great Lengths to Defend Biden's Open Border Policy
Speaking on CNN's "State of the Union," Adams noted Abbott and DeSantis are proliferating guns in the United States, which is a violation of fundamental human rights.
Adams also stated that Republican governors only expel their migrants to blue-city cities in order to cover up chronic human rights violations.
It was humbled to join the the Garner Way Foundation last night to honor the legacy and family of Eric Garner. pic.twitter.com/HVZJrVT9EA

— Mayor Eric Adams (@NYCMayor) September 18, 2022
DeSantis recently sent 50 illegal immigrants to Martha's Vineyard in Massachusetts. This triggered congressional Democrats as well as the White House. Liberal lawmakers claim that DeSantis is engaging in human trafficking and that his actions are publicity stunts.
Likewise, Adams noted New York City is facing a rising humanitarian crisis, as at least six buses of illegal immigrants reached the city on Saturday. Since May, NYC received more than 11,000 illegal immigrants and asylum seekers, Adams added.
Liberal cities are decrying a few thousand illegal immigrants at a time when more than two million illegal immigrants encountered have happened on the US Southern border this fiscal year.
Fox News reported that Martha's Vineyard's self-declared humanitarian crisis is only 0.0025% of the overall border crisis.
Here Eric Adams. Here's that cause of the problems you blamed border states for. Now go attack the administration responsible.
The Jaw-Dropping Number of Illegal Immigrant 'Got Aways' Under Biden's Watch https://t.co/rNajUjaL1R

— Thomas Payne Revolutionary (@TomfromThetford) July 25, 2022
Adams' Sanctuary City Policy Backfired
While trying to protect the reputation of the Biden administration, Adams claimed the whole country needs to coordinate in order to solve the issue of the migrant influx.
Adams said that America has always been open to all and should permit anyone who wants to live the American dream.
Media outlets report that Adams finally acknowledges that the border crisis really is affecting the United States.
According to Jake Tapper of CNN, Adams's comments mean he is urging the Biden administration to take the open border issues seriously; more than 1,700 illegal immigrants are coming to the US only from El Paso daily.
In a separate interview on ABC News on Sunday, Adams refused to back Vice President Kamala Harris over her recent claims the US southern border is safe and secure.
Adams argued that everyone should work together to secure the US' southern border.
Similarly, the ABC interviewer asked Adams if his policy of making NYC a sanctuary destination backfired or not, referring to the mayor's previous tweet in which he claimed NYC will remain a sanctuary destination under his leadership.
Adams replied that NYC has always been a refuge place because it has welcomed all who wish to achieve the American dream.