New Transgender Owner of Miss Universe Celebrates an End to It Being Run by Men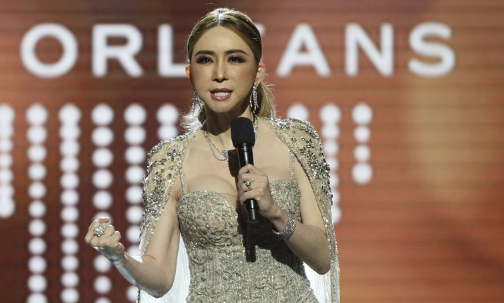 Miss Universe is undergoing change. The new owner of the pageant recently made a statement that made this plain.
CEO Anne Jakkaphong Jakrajutatip informed the crowd during the presentation on Saturday.
In New Orleans, at the 71st Miss Universe pageant, Anne championed female power.
The biological male proclaimed the end of macho ownership and the beginning of womanly stewardship.
"It has been seventy years that the Miss Universe Organization has been run by men. But now, time is up. It's the moment, really, for women to take the lead. Welcome to the new era of the global women's empowerment platform. Welcome to the Miss Universe Organization. From now on, it's going to be [run] by women, owned by a trans woman. For all women, really, around the world to celebrate the power of feminism. Diverse cultures, social inclusion, (and) gender equality. Creativity. The force for good. And, of course, the beauty of humanity."
Anne Jakrajutatip, the new owner of Miss Universe, delivered an empowering speech yesterday: "Welcome to the new era. From now on it's gonna be run by women, owned by a trans woman, for all women around the world." pic.twitter.com/TJXV8EPkAv

— Dan Hastings-நாராயணன் (@notdanhastings) January 15, 2023
Anne then continued to share a personal experience, "I was born as a trans woman who got bullied and sexually harassed by my own teacher when I was young; plus, I was not accepted by society because they did not want to embrace my differences. But guess what? I chose not to surrender. I turned pain into power. And I turned life lessons into wisdom."
The Miss Universe Organization was purchased from Endeavor's IMG for $20 million by the Thai billionaire who also happens to be the largest shareholder of JKN Global Group Public Company Limited.
The contest has been trending in that direction with regard to transgenderism at least since 2018. When Angela Ponce won the lower pageant to represent Spain that year, he was the first biological man to compete. The outcome was remarkable in addition because a male Canadian contestant had sued Miss Universe in 2012 for the right to compete. As a result, the organization loosened its regulations.
There will undoubtedly be a lot more to come. Anne bought the Miss Universe, Miss USA, and Miss Teen USA beauty pageants in October.
Only women between the ages of 18 and 28 who had never been married or had children were initially eligible to apply, according to the Miss Universe rulebook. Both events have strived to move past their conventional foundations in recent years as their ratings have fallen.