National Park In Florida Keys Closes Indefinitely After 300 Migrants Land On Shores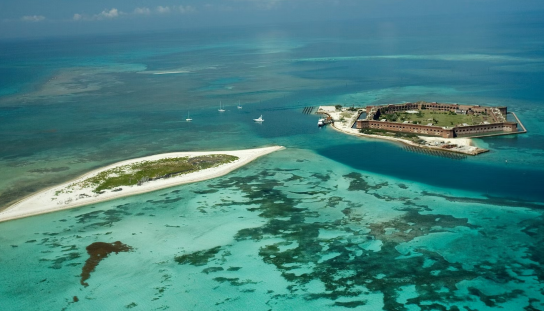 The Florida Keys' Dry Tortugas National Park made the announcement that it would close as of Monday due to an influx of migrants along its shores.
The park, which is situated at the westernmost point of the Florida Keys, made the closing announcement on Monday. According to a statement from the National Park Service, the park was closed so staff could respond to the almost 300 refugees who had recently arrived on the island. The majority of the migrants traveled by boat from the communist country of Cuba.
According to the National Park Service's statement, "On January 2 at 8 am, Dry Tortugas National Park will temporarily close to public access while law enforcement and medical personnel evaluate, provide care for and coordinate transport to Key West for approximately 300 migrants who arrived in the park over the past couple of days. The closure, which is expected to last several days, is necessary for the safety of visitors and staff because of the resources and space needed to attend to the migrants. Concession-operated ferry and seaplane services are temporarily suspended."
The message also stated that until the Department of Homeland Security arrives and assumes command, park first responders offer food, drink, and basic medical care. The specified sites inside the one nautical mile anchoring zone around Garden Key, including Bird Key Port, are where vessels may find safe harbor while the park is closed. While the closure is in place, there won't be any tourist services offered, and there won't be much in the way of emergency services. All restrictions will stand until further notice.