National Guard holds off dozens of migrants attempting to cross Rio Grande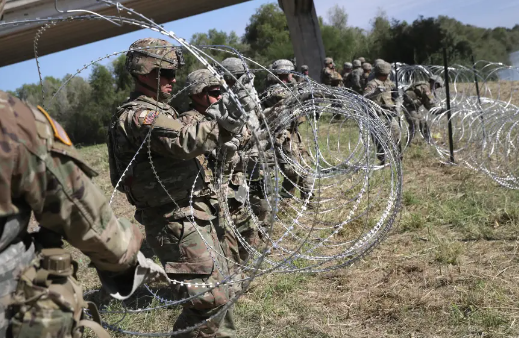 On Saturday, the Texas National Guard was out in force in this Mexican border city, where scores of migrants had attempted to enter into the United States without proper documentation.
Under the Ysleta-Zaragoza Bridge, migrants leaped across tiny rocks in the Rio Grande, including moms carrying their young children on their backs.
Once they crossed, however, they were stopped by concertina wire and thirty men of the Texas National Guard.
"Vamanos," — "Let's go!" — a loudspeaker blared from a DPS vehicle on the opposite side, with the border wall about 300 feet in the background.
"Vamanos," the agent repeated.
A dozen members of the Texas National Guard showed just moments later and ordered everyone to leave.
Again, the migrants leapt across the water.
This time retreating.
"There's another way we can go through," a young Guatemalan man told The Post.
He claimed this was his initial attempt at the bridge.
It's been three days since he arrived.
Another man, Rile Barebes Santos, 18, claimed he felt unafraid despite seeing the National Guard soldiers on the opposite side of the border.
"I want to be something when I grow up," said the high school student who left the Dominican Republic two weeks ago after the murder of two uncles.
"There is no security where we live," said Barebes Santos, who is from the Dominican capital Santo Domingo.
He took several buses from the United States to Mexico on Friday and was robbed of 300 Mexican pesos (about $17 U.S.), he told The Post.
A police cruiser in Juarez flashed its lights at the migrants as they looked for another crossing point.
The refugees fled the bridge, only to return and take up residence behind the barbed wire.
The Texas National Guard turned away a 16-year-old girl from the bridge, leaving her in tears.
Kleisy, who is 16, has been attempting to reach Dallas. She has been gone from Guatemala for almost a month.
In Guatemala, she is close with her sisters.
Sadly, her mother has cancer.
Spending time with her dad in Dallas and sending money back to her mom is her goal.
Several National Guardsmen ordered them to leave and stretched out concertina wire