Federal Judge Blames Biden Administration for Causing Border Crisis, Blocks Release of Illegal Aliens Into the US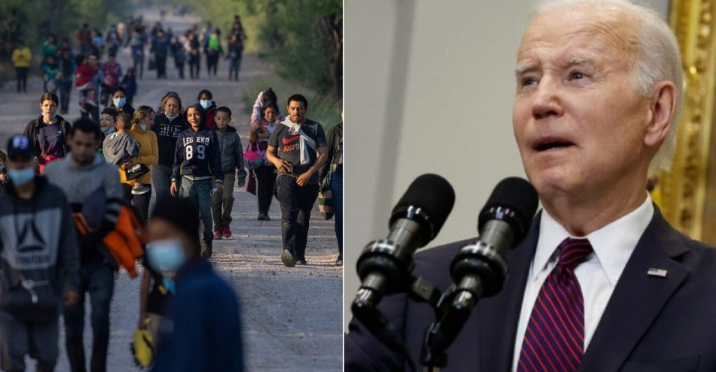 A federal judge in Florida has put a stop to the Biden administration's policy of releasing undocumented immigrants into the United States without scheduling court appearances. The decision was made by Judge T. Kent Wetherell II, who was appointed by former President Donald Trump. This ruling comes shortly before the expiration of Title 42, which enabled the swift expulsion of illegal border crossers to Mexico amid the COVID-19 pandemic.
Judge Wetherell, on Thursday evening, issued a temporary restraining order that prevents the Biden administration from implementing their parole policy as a replacement for Title 42. The order, which came into effect at 11:59 p.m. on Thursday, May 11, was announced by Florida Attorney General Ashley Moody, who had filed a lawsuit against the Biden administration regarding the policy.
Sen. Ted Cruz: "Why is AOC not here? She still owns the white pantsuit. Why is she not here with her head buried in her hands? They don't give a damn about the dead bodies." pic.twitter.com/gNOrRGa2WR

— Becker News (@NewsBecker) May 12, 2023
"We took swift action to protect the American people from [President Joe Biden's] unlawful plan to release thousands of illegal immigrants when Title 42 lifts in an hour. I am grateful for the quick decision by the federal judge," Moody said.
According to Florida Attorney General Ashley Moody, the Biden administration's latest policy, which permits the release of undocumented immigrants without court appearances, closely resembles a previous program known as Parole plus Alternative to Detention (Parole + ATD). This earlier initiative was declared illegal by a Florida court in March. Judge Wetherell supported Moody's argument in his ruling, stating that the new policy was essentially the same as Parole + ATD in terms of its objective to address overcrowding in detention centers and its operational methods.
As per a memo from the Department of Homeland Security, Secretary Alejandro Mayorkas has established a new policy that empowers him to provisionally parole specific noncitizens into the United States on an individual basis, considering urgent humanitarian grounds or substantial public benefits. Under this policy, undocumented immigrants who are apprehended may be released into the United States without being assigned an alien registration number or being provided with a court date.
"The policy does not contemplate that the alien would be taken into custody at the [Immigration and Customs Enforcement] facility and, as was the case with the Parole+ATD policy, aliens released under the challenged policy would not have an immigration 'case' that can 'continue to be dealt with' after the purposes of the parole have been served," Wetherell wrote.
Following the expiration of Title 42 at midnight on Thursday, Secretary Mayorkas released a video statement addressing the matter. He underscored that individuals who arrive at the border without utilizing a legal pathway will not be eligible for asylum and will face more serious consequences.
During a visit near the Rio Grande in Brownsville, Texas, on Thursday, Senator Ted Cruz (R-TX) strongly criticized the Biden administration for what he described as a purposeful mishandling of the border crisis.