NYC Buses Illegal Aliens to Upstate NY, Hotels Kick out Homeless Vets as a Result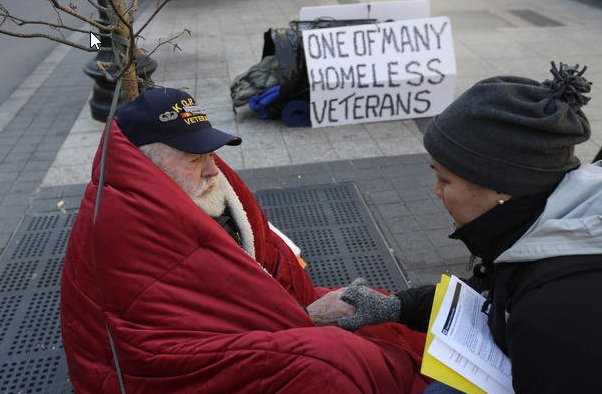 A charity that aids homeless veterans claims that almost two dozen veterans have been evicted from upstate motels to make way for migrants.
At the beginning of the week, the hotels allegedly informed the ex-military, including a 24-year-old man in desperate need of help after serving in Afghanistan, that their temporary housing was being pulled out from under them and that they would have to move on to another spot.
"Our veterans have been placed in another hotel due to what's going on with the immigrants,'' said Sharon Toney-Finch, the CEO of the Yerik Israel Toney Foundation.
Toney-Finch, a wounded war veteran, founded YIT to aid homeless and low-income military service members in addition to spreading awareness about the dangers of preterm deliveries.
"One of the vets called me on Sunday,'' she said.
"He told me he had to leave because the hotel said the extended stay is not available. Then I got another call.
"We didn't waste any time,'' the advocate said.
"That's when we started on Monday to organize when and where to move them all.
"I am glad you called me today,'' she told The Post.
"Last night, I was crying."
After Mayor Eric Adams began busing Gotham's overflow there against the preferences of local politicians, Toney-Finch said that 15 of the veterans were given the boot from the Crossroads Hotel in Newburgh, roughly 60 miles north of New York City in Orange County.
Toney-Finch said the remaining five displaced veterans were split between the Super 8 and the Hampton Inn & Suites in Middletown.
Hotels in Middletown apparently made the city's shortlist to house refugees, but no one has seen any yet.
Although she claimed the hotels didn't tell the vets they had to leave because of the migrants, she said it was obvious from the time that this was the case.
Toney-Finch, who asked that The Post not reveal the location, reported that all twenty of the booted veterans had checked into a motel in the Hudson Valley, some twenty minutes away.
When The Post reached out to the Crossroads, Super 8, and the motel where the vets are currently residing on Friday, none of them had anything to say.
A message placed to Hampton Inn's voicemail was not immediately returned.
According to Toney-Finch, the veterans were supposed to stay at the three hotels for up to four weeks until a more permanent solution was sought out.
She claimed that the veterans had been staying at the motel for almost two weeks before being kicked out.
"Now we have to work from ground zero. We just lost that trust [with the vets]," the organizer said.
"A lot of them are Vietnam veterans. We do help them on a constant basis to get them benefits and help them find a place in society."
A Republican who helps represent Orange County in the state assembly, Brian Maher, stated, "Shining a light on this is important because we need to make sure these hotels know how important it is to respect the service of our veterans before they kick [them] out of hotels to make room."
"They really ought to think about the impact on these people already going through a traumatic time,'' he told The Post.
"Whether you agree with asylum-seekers being here or not, we can't just ignore these veterans that are in our charge that we are supposed to protect: the New Yorkers and Americans."
"We need to put them first."
Toney-Finch said she believes it all comes down to money.
"They want to get paid'' more, she said of the hotels, referring to what her group shells out to get the vets housing compared to what the city is paying for each migrant.
"That's so unfair, because at the end of the day, we are a small nonprofit, and we do pay $88 a day for a veteran to be there," she said.
As of spring 2024, the expected cost to taxpayers due to migrants is $4.3 billion. It is unknown what the city is paying upstate, but numerous alleged accords between New York and Manhattan hotels have called for payments such as $190 per night.
Adams began bussing migrants flooding the city to The Crossroads on Thursday — hours before a key federal immigration-rule change was set to take effect and feared to increase the influx even more.
Adams and authorities in Orange and adjacent Rockland County engaged in a furious battle of words in response to the mayor's proposal, with the mayor threatening to transport migrants until a lawsuit temporarily delayed the action.
The fact that veterans are being caught in the middle of the migrant problem, according to Maher, is ridiculous.
"For these people only being there a few weeks, then to be told after having a level of trust developed, 'Hey, you have to get out,' That's not right,'' he said.