Marjorie Taylor Greene Calls for Biden To Be Impeached Over Docs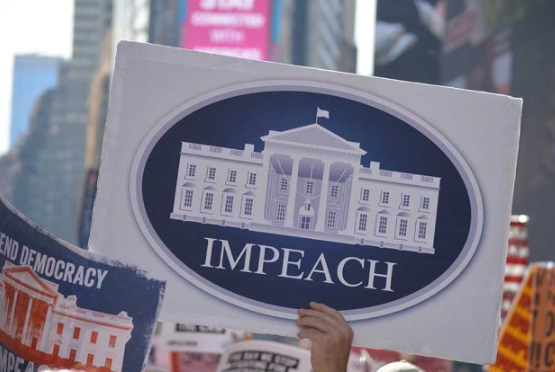 President Joe Biden is not a friend of Rep. Marjorie Taylor Greene (R-GA). The freshman congresswoman filed articles of impeachment against him on his first day in office in 2021. She later said that she would be introducing three additional impeachment resolutions in August. In response to the crisis surrounding Biden's confidential materials, the representative is once more pushing for his impeachment.
Greene discussed Biden's lawyers discovering secret documents at his former Penn Biden Center for Diplomacy and Global Engagement in an interview with C-Span. Because the data date back to when he was Barack Obama's vice president, she argued that Congress should impeach the president.
Vice Presidents can NOT declassify information and Joe Biden possessing classified docs means he stole them.

This is the 3rd place Biden's own people are exposing his theft of classified docs.

Usually Democrats bleach, shred, and burn, why are they turning on him? https://t.co/ww4fajy3jR

— Rep. Marjorie Taylor Greene🇺🇸 (@RepMTG) January 12, 2023
"Vice presidents cannot declassify documents," according to Greene.
She continued by saying that the news called for a thorough inquiry. She advised Congress to oust Biden from office.
The way the DOJ has handled former President Donald Trump, according to Greene, has led her to feel that there is a true two tier justice system.
And just like that, everything we request will be "under investigation" because of Merrick Garland's appointed special counsel and unavailable to Republican investigators.

Amazing. https://t.co/a3RuJQce5v

— Rep. Marjorie Taylor Greene🇺🇸 (@RepMTG) January 12, 2023
Greene's comments are in response to the report that Biden's attorneys discovered two sets of sensitive documents at locations with ties to him. Both sets were discovered—one at his house in Delaware and the other at his office in the Penn Biden Center. The National Archives and Records Administration received the documents from the lawyers.
Former US Attorney Robert Hur was chosen by Attorney General Merrick Garland to look into how the records came to be in that location. The AG claimed that the DOJ's independence in handling sensitive topics is demonstrated by the nomination of the former Donald Trump appointee.
Greene questions whether the people will gain anything from the special counsel's inquiry. She expressed worry that the DOJ will use it as a justification to refuse to provide Republicans with the documents they request.
The special counsel pledged to conduct the investigation in a fair, objective, and impartial manner.