Judge Rejects Kari Lake's Election Lawsuit Following Two-Day Trial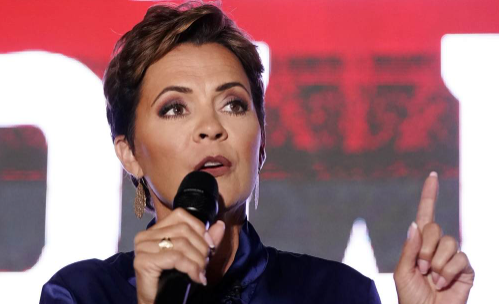 Kari Lake, a Republican running for governor in Arizona, lost her case on Saturday about the 2022 election.
A judge let two of Lake's ten lawsuits against the results of her 2022 race to proceed to trial. Election Day printer issues and improper ballot handling procedures were the two counts. Peter Thompson, the superior judge for Maricopa County, dismissed the other eight counts. By around 17,000 votes, Democrat Katie Hobbs, Arizona's secretary of state, defeated Lake in the contest.
After the two-day trial, Thompson determined that Lake had not established that election officials' intentional misconduct was significant enough to alter the outcome of the contest.
The official canvass revealed a victory margin of 17,117 votes, which is higher than the statutory threshold for a recount. According to the best of the Court's knowledge, no such margin has ever been set aside by a court in American history. This case also follows a closely contested race for governor and persistent controversy over the validity of the election process, both of which are significantly less unusual occurrences in this country, Thompson noted in his order.
Lake declared she will challenge the judge's decision.
Maricopa County, which houses 60% of Arizona's residents, was the focus of Lake's election-related accusations.
My Election Case provided the world with evidence that proves our elections are run outside of the law. This Judge did not rule in our favor. However, for the sake of restoring faith and honesty in our elections, I will appeal his ruling.

— Kari Lake (@KariLake) December 24, 2022
According to Scott Jarrett, director of the Maricopa County Co-Elections, the county's root cause investigation is still ongoing. Additionally, according to officials, printer heat settings were a factor in the issues on Election Day.
Katie reported last month on how Bill Gates, the chairman of the Maricopa County Board of Supervisors, said that a number of polling places have significant problems on election day. Voters who complained that their votes were delayed or not counted at all provided documentation to support their claims.
Additionally, Maricopa County Civil Division Chief Thomas Liddy received a letter from Arizona Attorney General Mark Brnovich (R) informing him that election workers had violated rules and denied citizens their right to vote.
Abe Hamadeh, a Republican running for attorney general in Arizona, lost a ruling against him on Friday. He was defeated by the Democratic candidate by a slim margin of 511 votes, which called for an immediate recount.