French President Stops Biden To Slam His Plan To Combat Gas Prices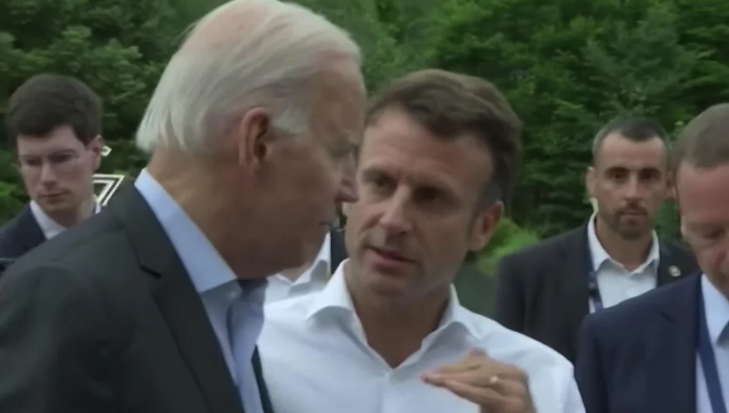 President Joe Biden's proposal to assist the United States tackle record-high gas costs was deflated on Monday by the president of France, Emmanuel Macron.
It has been widely reported in the media that Biden intended to use his trip to the Middle East next month to lobby nations like Saudi Arabia, which produces oil, to boost their production of fossil fuels.
Biden is frantically trying to come up with a fix for the growing gas price situation. Biden has criticized climate change hawks for demanding American energy providers expand their output in addition to calling on foreign nations to do the same. However, oil corporations claim that production is already higher than it has ever been.
Biden was counting on Arab nations to produce more oil but a few hours ago French President Macron was overheard telling Biden that the United Arab Emirates is at max capacity & the Saudis can't produce much more. It appears to be a direct appeal to Biden to produce more oil. pic.twitter.com/vRWJVpn3El

— Michael Shellenberger (@ShellenbergerMD) June 27, 2022
At the G7 Summit, Macron was overheard informing Biden that two OPEC members, Saudi Arabia and the United Arab Emirates, are close to reaching their maximum production capacity, which undermines Biden's proposal.
The French president stated, "He told me two things. He says I'm at maximum production capacity. Then he said the Saudis can expand by 150 thousand barrels per day. Maybe a little more, but they don't have tremendous capacities before six months' time."
The revelation is noteworthy because, according to reports, Saudi Arabia and the UAE were thought to be the only two [OPEC] members with extra capacity to increase global supply and lower prices.
تعليقا على ما يتم تداوله مؤخرا عن مستوى انتاج دولة الإمارات، نود التوضيح أن انتاج دولة الإمارات الحالي قريب من سقف الإنتاج المرجعي للدولة في اتفاقية +OPEC ،وهو (3.168 مليون برميل يوميا) و إلتزامنا قائم بهذا السقف الى نهاية الاتفاقية.

— سهيل المزروعي (@HESuhail) June 27, 2022
Suhail bin Mohammed Al Mazrouei, the UAE's energy minister, promptly reaffirmed the details of Macron's announcement.
Samantha Gross, fellow and head of the Energy Security and Climate Initiative at the Brookings Institution, said that any assistance will probably not make much of a difference at the gas pump, regardless of whether Biden can rely on OPEC to help relieve the gas price situation.