Florida Police Officer Fired After Video Shows Him Drag Woman Into Jail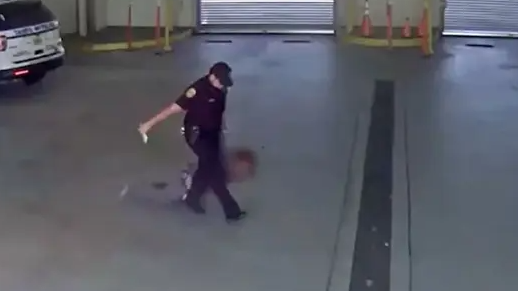 After a video of a Florida police officer dragging a lady over the ground during a jail booking appeared, the officer was dismissed.
The Tampa Police Department announced Tuesday that Patrol Officer Gregory Damon had been fired after an investigation revealed he had broken several rules while checking a prisoner into the Orient Road Jail in Tampa.
According to a news release, Damon was called to the Tampa Family Health Center on November 17 in response to a report that someone was sleeping outside the building and was refusing to leave. An adult lady who had previously received a warning for trespassing on the same site was discovered and taken into custody, according to the police.
The woman allegedly refused to get out of the car after Damon and the suspect got to the jail and started yelling at the officer.
The woman was allegedly seized by the arm and taken from the automobile to the jail door entrance by Damon, who was employed by the department in 2016.
"Throughout the incident, the female repeatedly used vulgar and obscene language. Rather than remaining professional, Damon himself made rude and derogatory comments to the arrestee."
According to the police department, it updated its policy in 2013 to include specific language warning officers that dragging a noncooperative person is never a good idea.
Damon did not adhere to established protocol when the incident occurred on November 17. Supervisors at the Hillsborough County Sheriff's Office, which manages the county jail facilities, informed TPD of Damon's conduct.
"Professionalism is not only expected, it is demanded, in every encounter our officers have with the public, regardless of the arrestee being uncooperative or unpleasant in return. As law enforcement officers, we are held to a higher standard," Lee Bercaw, the acting police chief, made a statement.