FAA In Hot Water After Thousands of Flight Cancellations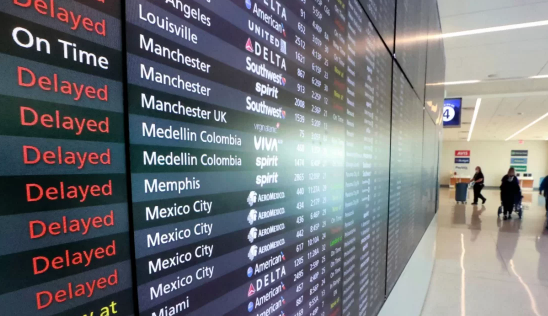 More than 4,000 flights had been delayed and more than 600 had been canceled due to a more than an hour-long outage in the system that disseminates information to pilots about issues with other aviation systems, upcoming events with the potential to disrupt traffic, such as planned military exercises or runway blockages.
The system first failed at 2 a.m. Eastern time, prompting the FAA to halt all domestic flights until 9 a.m.
Flights across the United States restarted just a few days ago, many hours after the Federal Aviation Administration was forced to halt all flights countrywide due to a computer breakdown.
Following a mistake in a computer system used to convey notifications to pilots, America's airspace was shut down for many hours Wednesday morning.
The FAA is working to restore its Notice to Air Missions System. We are performing final validation checks and reloading the system now.

Operations across the National Airspace System are affected.

We will provide frequent updates as we make progress.

— The FAA ✈️ (@FAANews) January 11, 2023
According to a senior government source, a damaged file compromised both the primary and backup systems, and officials are still investigating.
"The FAA is continuing a thorough review to determine the root cause of the Notice to Air Missions (NOTAM) system outage," the agency said in a statement. "Our preliminary work has traced the outage to a damaged database file. At this time, there is no evidence of a cyber attack."
Before departing the White House on Wednesday, Biden addressed the FAA issue. He stated that he had just been briefed by Buttigieg, who informed him that they still had not determined what went wrong.
"I just spoke to Buttigieg. They don't know what the cause is. But I was on the phone with him about 10 minutes," Biden said. "I told him to report directly to me when they find out. Air traffic can still land safely, just not take off right now. We don't know what the cause of it is."
Earlier in the day, Transportation Secretary Pete Buttigieg stated that officials had not ruled out the possibility of a cyberattack, but that "there is no direct sign of any kind of external or criminal activity."
MAYHEM AT THE AIRPORTS

The delays come just weeks after Southwest Airlines caused travel turmoil by canceling over 2,500 flights during the holiday season.
According to FlightAware, about 9,600 flights have been delayed and over 1,300 have been canceled, making this the first countrywide grounding of planes in nearly two decades. The total number of flights canceled surpassed 10,900.
Safety is always our first priority, and ensuring flight safety was the reason for this morning's ground stop while the affected systems were restored and checked. As normal flight operations have resumed, FAA continues to assess the causes of the outage. pic.twitter.com/JhsYKBDney

— Secretary Pete Buttigieg (@SecretaryPete) January 11, 2023
Buttigieg's Department of Transportation (DOT) has ordered six airlines to return $600 million to "hundreds of thousands of passengers who had been denied them," according to NPR.
In addition, the DOT has levied fines of $7.5 million on the six airlines. Surprisingly, only one of the airlines is based in the United States: Frontier Airlines. The next five are foreign: Air India, TAP Portugal, El Al Israel, Aeromexico, and Avianca (a Colombian airline).
NOTAM, which began in 1947, provides "information vital to individuals connected with flight operations but not known far enough in advance to be published by other ways," according to the FAA's website.
SEPTEMBER 11, 2001

Many industry officials compared the grounding to what happened following the September 11, 2001, terrorist attacks.
This FAA computer system failure feels pretty ominous.

I was 8 years old the last time they grounded all domestic flights in the United States. That was September 11th 2001.

— Murph (@MURHYSLAW) January 11, 2023
After a Federal Aviation Administration system breakdown prompted hundreds of aircraft delays and cancellations across the United States, the airline sector has gradually resumed service.