China Launches High-tech Aircraft Carrier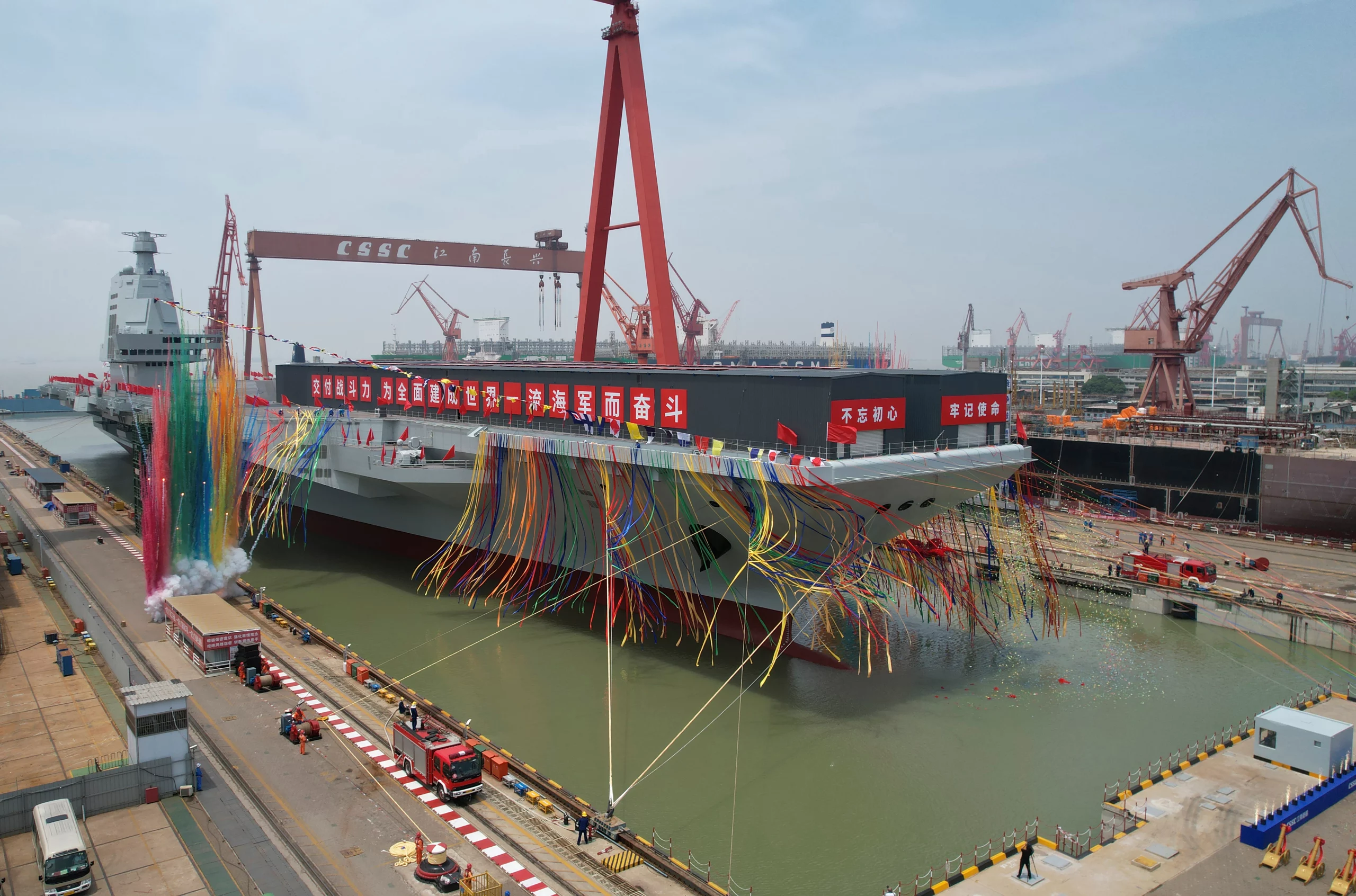 Beijing launched a new-generation aircraft carrier on Friday, the first of its kind to be developed and built in China, in a significant step toward expanding the navy's range and strength.
According to official media sources, the Type 003 carrier named Fujian departed its drydock at a shipyard outside Shanghai in the morning and moored up at a nearby pier.
As water jets poured over the big ship's deck, multi-colored streamers fluttered, and multicolored smoke was discharged, state broadcaster CCTV showed assembled navy troops standing beneath it.
The Type 003 ship's capabilities are considered to equal those of Western carriers, with the newest armament and aircraft-launch technology, as Beijing strives to transform its navy, which is now the world's largest, into a multi-carrier force.
The carrier was seen in what seemed to be a fully submerged drydock at the Jiangnan Shipyard outside Shanghai, according to satellite footage acquired by Planet Labs PBC on Thursday and reviewed by The Associated Press. It was festooned with crimson bunting, apparently in anticipation of the launch.
The first Chinese carrier was a recycled Soviet vessel, while the second was built in China but based on a Soviet design. Both were designed to use a "ski-jump" launch style, featuring a ramp at the end of the short runway to assist planes in taking off.
The Type 003 uses a catapult launch, which analysts believe is an electromagnetic-type device similar to one developed by the United States. Navy. In a report on Friday's launch, China's official Xinhua News Agency stated that the Fujian used the electromagnetic technique.
Such a technique puts less stress on the aircraft than previous steam-type catapult launch systems, and using a catapult allows the ship to launch a wider range of aircraft, which is important for China to project naval force over a longer distance, according to Rahmat.
Simultaneously, the United States has been focusing more on the region, particularly the South China Sea. Six states claim all or part of the strategically important waterway, which transports an estimated $5 trillion in global trade each year and has rich but rapidly dwindling fishery supplies as well as major underwater oil and gas resources.
China has been by far the most assertive in claiming almost the whole waterway, as well as its island characteristics and resources.