Red Chinese Carrier Group Caught Drilling in the Pacific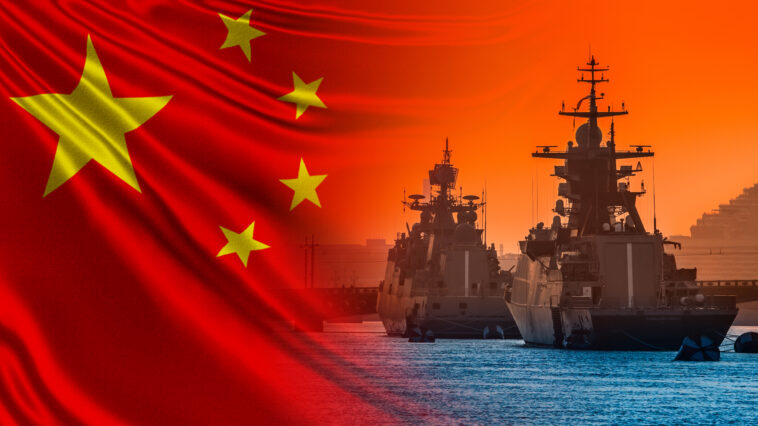 It seems like China is increasing its aggression and making preparations for war. China now is going from high-profile and escalatory but otherwise useless missions such as sending flights of jets and bombers to Taiwan to missions that signal a commitment to waging sophisticated warfare.
In Recent preparations for war included naval drills in the Pacific where a six-ship carrier group, including the Liaoning, reportedly started operating.
That's all according to USNI News, which has added that:
The PLAN carrier group featuring Liaoning, destroyer Nanchang (101), a Luyang III-class destroyer, frigate Rizhao (598) and another Type 54A Jiangkai II frigate, along with a Type 901 replenishment ship, was in the vicinity of the waters off the uninhabited Oki Daito Island, 315 kilometers, or about 196 miles, southeast of Okinawa on Dec. 20, the Joint Staff Office of the Japan Self-Defense
The carrier was conducting flight operations with J-15 fighter aircraft along with Z-9 and Z-18 helicopters from 8 a.m. until 7 p.m. that day. The JSO issued an earlier release on the same day that noted the activity of the PLAN carrier group on Dec. 19, saying it was in the vicinity of Kita Daito Island, 300 kilometers, or about 186 miles, east of Okinawa and conducting flight operations from 8 a.m. to 9 p.m.
Although it isn't reported that the carrier group is on any other mission than training, its location far from China's shores indicates that China is able to move from a "brown-water" (coastal), naval power to one of "blue water".
Force said in a Tuesday news release.
Despite the apparent takeover of the armed force, America remains committed to the region and has sent ships to practice maneuvers and deter Chinese aggression.
However, it's not clear how effective this deterrence will prove to be like America's military is deteriorating due to its focus on woke priorities while the Chinese have remained committed to developing their military strength and imbuing their populace with the spirit necessary for warfighting.
Still, it's possible that shows of commitment, such as the USS Carl Vinson operating alongside our Australian allies, will prove effective in keeping the Red Chinese from waging naval war upon us and invading Taiwan.