California Arsonists Light Themselves on Fire After Dousing Business with Gasoline (VIDEO)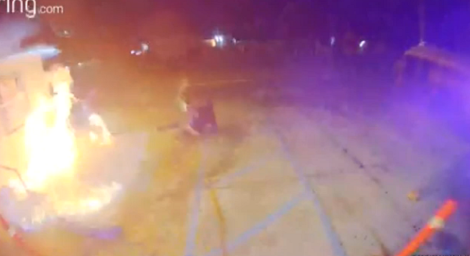 After dousing a shop with gasoline early on Monday morning, two suspects in arson set themselves on fire.
On Ring surveillance footage, the two guys were seen dousing Servicio de Imigracion, a company that offers immigration services, in gasoline.
Both males are instantly on fire after one man starts the fire. As they flee, the suspects can be heard screaming.
A building fire that occurred Monday morning just after midnight was confirmed by the Kern County Fire Department.
A security video obtained by the company's owner, Max Solorzano, shows two individuals dousing the establishment in gasoline before lighting it on fire—along with themselves.
Within ten minutes of their arrival, the fire was put out, and the damage to the garage was kept to a minimum, according to the firefighters.
Tax preparation firm Servicio de Imigracion is the implicated corporation. For anyone in need of immigration or tax assistance, the owner requested that 23ABC advise them to use their Planz Road branch as the Niles Street location would be closed due to the fire.