Biden Administration Weighs Nationwide Ban On Gas Stoves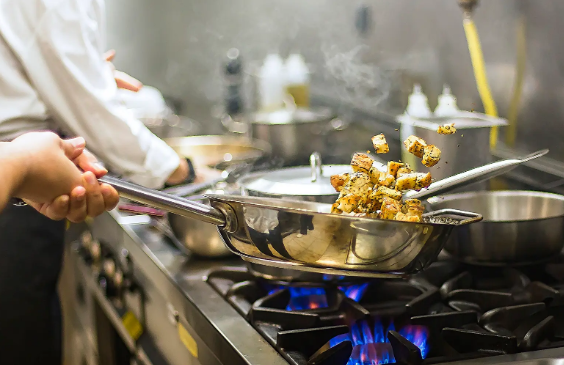 Millions of Americans may soon find themselves in "not stove season."
According to a source, the Biden administration is mulling a statewide ban on gas stoves, citing the dangerous emissions emitted by the appliances.
According to Bloomberg, the Consumer Product Safety Commission is considering taking action after recent studies revealed that emissions from the gadgets can cause health and respiratory concerns.
"This is a hidden hazard," CPSC Commissioner Richard Trumka Jr. told the outlet. "Any option is on the table. Products that can't be made safe can be banned."
According to reports from organizations such as the American Chemical Society and New York University Law School's Institute for Policy Integrity, gas stoves emit pollutants such as nitrogen dioxide, carbon monoxide, and fine matter at levels deemed unsafe by the Environmental Protection Agency and the World Health Organization.
Gas stoves were also connected to respiratory illnesses, cardiovascular difficulties, cancer, and other health problems in the investigations.
According to a paper published last month in the International Journal of Environmental Research and Public Health, gas stoves are responsible for more than 12% of childhood asthma cases.
"There is about 50 years of health studies showing that gas stoves are bad for our health, and the strongest evidence is on children and children's asthma," Brady Seals, a manager in the carbon-free buildings program at the nonprofit clean energy group RMI and a co-author of the study, told Bloomberg. "By having a gas connection, we are polluting the insides of our homes."
The CPSC might enforce emissions regulations instead of prohibiting the manufacture or importation of gas stoves, according to Trumka.
He expects the agency to invite public comment on gas stove hazards later this year.
Sen. Cory Booker (D-NJ) and Rep. Don Beyer (D-VA) wrote to the EPA in December, pleading with it to take action against the appliances, claiming they constitute a "cumulative burden" on minority and low-income homes.
The association that represents gas stove manufacturers such as Whirlpool claims that cooking on any type of stove emits dangerous pollutants.
"Ventilation is really where this discussion should be, rather than banning one particular type of technology," said Jill Notini, a vice president with the Association of Home Appliance Manufacturers.
"Banning one type of a cooking appliance is not going to address the concerns about overall indoor air quality," she added. "We may need some behavior change, we may need [people] to turn on their hoods when cooking."