Biden Mocked For Disgusting Claim About Airline Seats Policy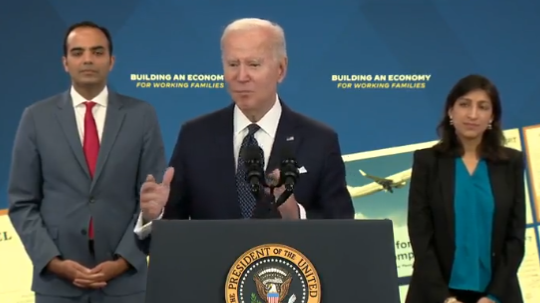 In a speech he gave on Wednesday at the White House, President Joe Biden claimed that additional legroom fees on commercial airlines harm minorities.
During a speech when he slammed airlines, hotels, and other businesses for charging American families unnecessary fees, Biden claimed that charging for more legroom on airplanes was unjust to people of color and low-income Americans. In order to prevent consumers from being shocked by hidden costs, Biden promised that his government would take steps to put an end to such practices.
On September 26, the Transportation Department (DOT) put forth a proposal that would require airlines to disclose any additional costs up front when customers buy tickets. Any additional fees for kid seating, flight changes or cancellations, or for checked or carry-on baggage would have to be clearly displayed to potential customers under this law.
In response to Biden's executive order, which pledged to utilize a whole-of-government strategy to manage the economy, the department proposed the regulation.
According to a rule it proposed in August, the DOT also wants to mandate that airlines issue refunds to passengers for delayed and canceled flights. Additionally, the government put up regulations for 2021 that would oblige airlines to reimburse passengers for expenditures associated with badly delayed checked baggage as well as services that were not rendered, such unreliable Wi-Fi.