WH Press Secretary Outright Lies About Abortion Bill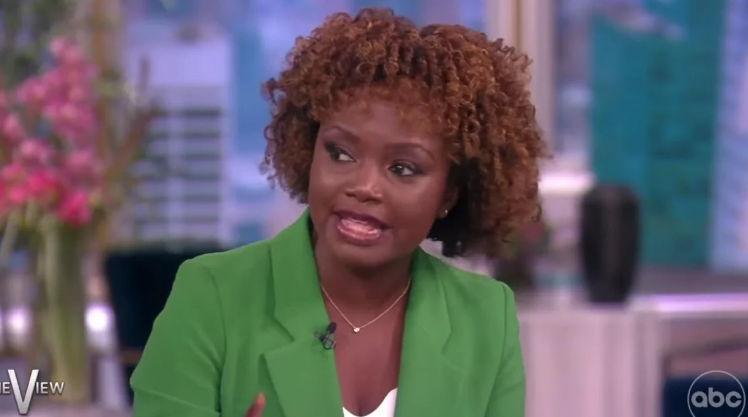 Karine Jean-Pierre, the press secretary for the White House, flat-out lied about Sen. Lindsey Graham's abortion legislation on Thursday.
Jean-Pierre discussed the subject of abortion in general and Graham's recently introduced bill in an interview on "The View,"
The South Carolina Republican's measure, in Jean-opinion, Pierre's is intrinsically hazardous for American democracy since it entirely outlaws abortion across the board and takes away women's freedom of choice.
One issue in particular, Jean-Pierre said, "One thing I really want to call out: We have Lindsey Graham and other leaders of the Republican Party who are saying — they're being very clear about this, folks, we've got to listen to them — that they want a national ban on abortion."
"And it's not gonna matter if you're in a red state or a blue state — that means it will be completely banned. That is their message. That's what they're doing here and we have to remember that we can't allow that to take us back. We cannot be moving backwards."
Contrary to Jean-assertion, Pierre's Graham's measure, the Protecting Pain-Capable Unborn Children from Late-Term Abortions Act, does not criminalize abortion entirely countrywide.
The bill instead aims to outlaw abortions performed beyond 15 weeks of pregnancy. The measure makes exclusions for rape, incest, and the mother's bodily life, which are among the least frequent justifications for abortions given by women.
Contrary to Jean-assertion, Pierre's Graham's moderate drive is really supported by the general population. Only one-third or less of Americans, according to historical trends in abortion polling, think that abortion should always be allowed. That indicates that the majority of Americans support abortion restrictions, such as banning it altogether or limiting it to the first trimester.
Jean-Pierre asserted that Republicans will try to rip back marital rights, contraceptive rights, and privacy rights after making an untrue assertion about Graham's measure.
Republicans do not support any of Jean-claims. Pierre's Conservatives have, however, questioned the legal foundation upon which some of those rights were established in relation to Supreme Court rulings, much like legal professionals questioned the legal foundation upon which Roe v. Wade was decided.
This week, President Joe Biden similarly responded to Graham's idea, but he, too, lied.