Climate Change Activist Lights Himself On Fire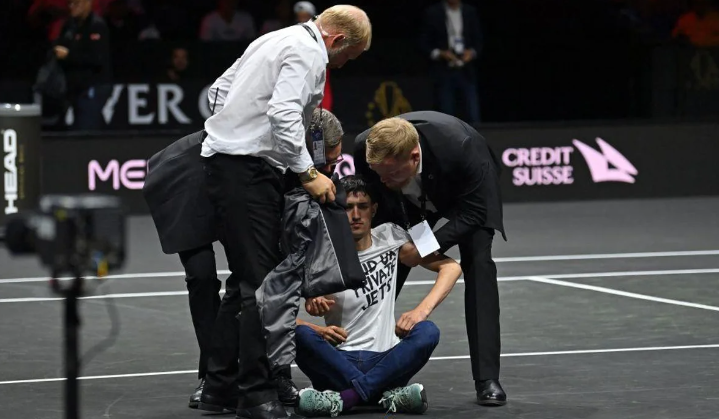 Just hours before tennis legend Roger Federer was scheduled to play in his last match of his legendary career, a climate change activist disrupted the 2022 Laver Cup by setting himself on fire.
During the Laver Cup, a climate change activist lit himself on fire. At the O2 Arena in London, England, during the match between Stefanos Tsitsipas and Diego Schwartzman, there was a disturbing interruption.
"End UK private jets." read the white shirt the climate change activist was wearing.
He made it into the tennis court, sat down on the floor, and used a lighter to set his right arm on fire. On the tennis court, there was a little flame as well.
A man has set his arm on fire after invading the court at the Laver Cup on Roger Federer's last day as a professional tennis player. pic.twitter.com/g0LcBU8PeJ

— Sam Street (@samstreetwrites) September 23, 2022
Security officers promptly expelled the protester from the court while extinguishing the fire.
The publicity gimmick delayed the start of Tsitsipas and Schwartzman's second set.
Sam Street, a sports writer, posted a video of the man setting himself on fire.
Tsitsipas went on to win 6-2, 6-1, giving Team Europe a 2-0 advantage over Team World.
Only a few hours before Roger Federer's highly anticipated final match, a climate change activist self-immolated.
A 22-year-old climate activist ran onto the court during the French Open and tied her neck to the net in Paris on Friday before being carried out by security. The climate activist group Dernière Rénovation claimed responsibility for the protest. pic.twitter.com/E2B2aAuaU1

— CBS News (@CBSNews) June 4, 2022
In his farewell match of his illustrious career, Federer, who has won 20 Grand Slam men's singles titles, will face off in a doubles match against longtime adversary Rafael Nadal and American tennis players Jack Sock and Frances Tiafoe.
At the Stade Roland Garros in Paris, France, in June, a 22-year-old climate change activist by the name of "Alizée" attempted to attach herself to the clay court by chaining her neck to the tennis net.
The woman's clothing had the slogan, "We are the last generation capable of preventing a climate collapse." from the French climate change alarmist group Dernière Rénovation.