VP Harris Goes Viral For Repetitive Remarks During Visit To Chicago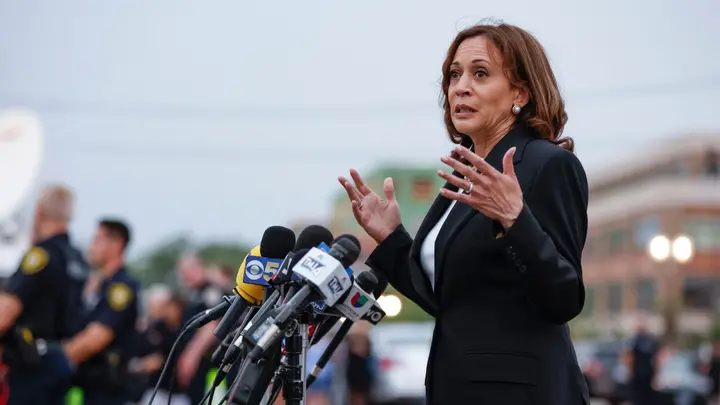 Following the horrible Independence Day parade tragedy, Vice President Kamala Harris made some remarks in Highland Park, Illinois that quickly went viral on Tuesday.
Harris visited the northern suburb of Chicago the day after the horrific shooting, which left seven people dead and more than 30 injured. He spoke with the local police officers there.
She spoke briefly to the town in sadness.
"And we got to take this stuff seriously, as seriously as you are – because you have been forced to have to take it seriously," Harris said to the residents of Highland Park.
"The whole nation should understand and have a level of empathy to understand that this can happen anywhere, in any peace-loving community. And we should stand together and speak out about why it's got to stop," the Vice President went on.
Harris has a long history of uttering strange statements. In March, when speaking at a White House event with Jamaican Prime Minister Andrew Holness, Harris received criticism for her wordiness while praising US connections with the country.
During a joint news conference, Harris joked to Polish President Andrzej Duda, "A friend in need is a friend indeed," before laughing for a few seconds. This behavior drew criticism from certain people.
In a radio interview, Harris raised eyebrows when she explained the Russia-Ukraine conflict in simple terms: "Ukraine is a country in Europe. It exists next to another country called Russia. Russia is a bigger country. Russia decided to invade a smaller country called Ukraine, so basically that's wrong." Ukraine is a country in Europe that is next to Russia.
During a visit to a facility in Paris in November, Harris drew criticism for speaking with what appeared to be a French accent in front of the scientists.