US Economy Shrinks Signaling Unofficial Start Of Recession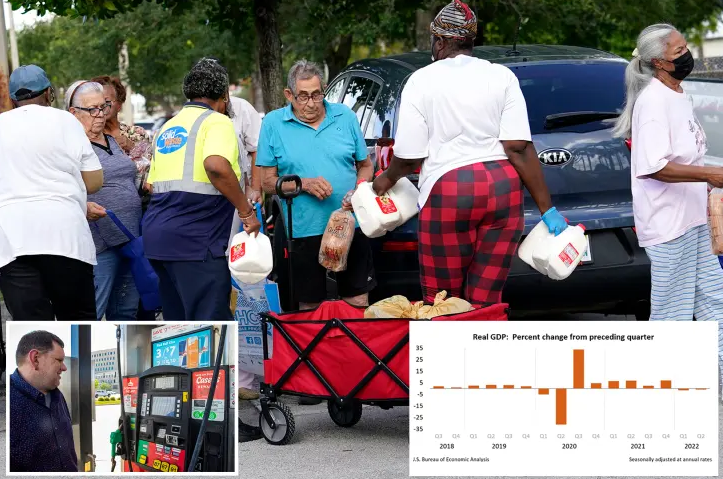 The US gross domestic product decreased for the second consecutive quarter, a worrying phenomenon that economists generally consider to be the hallmark of a recession.
According to figures from the Commerce Department, the GDP fell by 0.9 percent in the second quarter, stunning experts who had predicted it to rise by 0.3 percent. The fall followed a first-quarter report in which the US GDP unexpectedly contracted by 1.6 percent.
The US home market, which was once flourishing, is destined for price drops as demand from cash-strapped purchasers dries up, while inflation climbs to a 40-year high and pounds consumers.
Corporate profits have also started to decline, with Walmart and Meta among the businesses that have reported disappointing results.
The Federal Reserve increased its benchmark interest rate by three-quarters of a percentage point for the second consecutive month to reduce inflation, which reached 9.1 percent in June. The GDP report, which is considered the broadest indicator of the US economy's performance, was released the following day.
Sharp rate increases by the Fed have raised questions about its capacity to provide a gentle landing by controlling inflation without triggering a recession.
Following statements from leading economic leaders that the underlying economy is robust, the GDP fell. On Wednesday, Fed Chair Jerome Powell stated that he does not currently believe the US economy is in a recession.
Janet Yellen, the secretary of the Treasury, has also disputed the idea that a recession is already under way.
Yellen continued by saying she would be shocked if the National Bureau of Economic Research announced a recession soon.
Recessions are defined by the National Bureau of Economic Research, a recognized authority on the subject, as a severe fall in economic activity that affects all sectors of the economy and lasts for more than a few months. Although the NBER does not give a particular timeline for its definition of recession, two consecutive quarters of GDP drop are generally considered to be a symptom of recession.
Prior to the publication of the report, the White House made an effort to contain the damage. In a blog post, the Biden administration argued that even if GDP fell for a second consecutive quarter, a recession was still improbable.