Trump Requests Return of Materials Seized in FBI Raid Via Social Media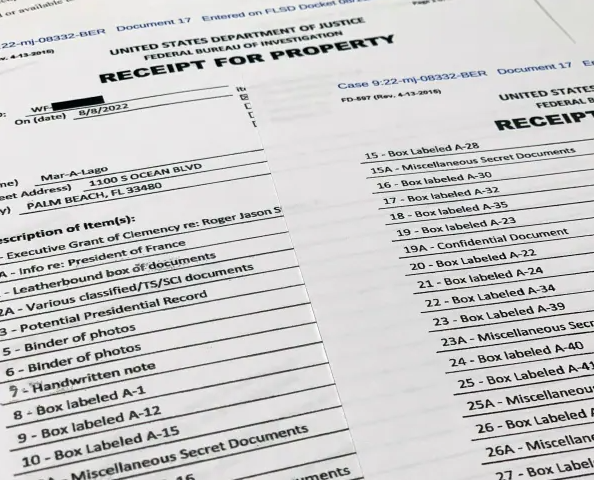 The former president demanded on Sunday that the Justice Department restore the mountains of paperwork that FBI investigators had taken from his Mar-a-Lago club last week, citing a report that claimed the information was protected by executive or attorney-client privilege.
"Oh great! It has just been learned that the FBI, in its now famous raid of Mar-a-Lago, took boxes of privileged 'attorney-client' material, and also 'executive' privileged material, which they knowingly should not have taken," according to recent information Trump wrote on his Truth Social website.
"By copy of this TRUTH, I respectfully request that these documents be immediately returned to the location from which they were taken. Thank you! ," the former president claimed.
Team Trump was informed that at least five boxes taken in accordance with the search order — marked A-14, A-26, A-43, A-13, and A-33 — included material protected by the attorney-client or executive privilege.
According to a property list of items released on Friday by the FBI, the documents were among a cache of items taken from Trump's opulent Palm Beach home last Monday, along with photo albums, a handwritten note, a leatherbound box of documents, and a "executive grant of clemency" for longtime aide Roger Stone.
Agents also discovered 11 boxes containing classified information designated with various security classifications, such as top secret, confidential, and "TS/SCI," which stands for top secret/sensitive compartmented information, an unique classification meant to safeguard the nation's most sensitive secrets.
Trump claims that he declassified the records, refuting the idea that they were classified.
John Solomon, a representative for the 45th president, read a statement on Fox News on Friday night in which he claimed that Trump had a standing rule during his tenure in the White House that any documents taken out of the Oval Office and brought inside the residence were automatically deemed to be declassified the moment they were moved.
But in June, during a visit by Justice Department representatives, a member of Trump's legal team signed a written statement claiming that all classified information at Mar-a-Lago had been handed back to the government.