Transgender Player Suffers Brutal Hit From Larger Opponent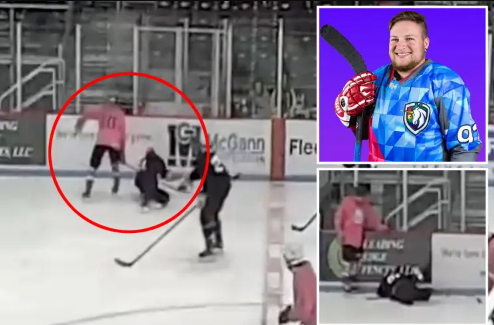 A transgender female player striking a much smaller transgender man opponent in shocking video from an NHL-sponsored hockey event left the latter with a concussion after hitting the boards head-first.
Daniel "Danny" Maki, a transgender player for the Rainbow Dash from Minneapolis, was hurt while competing in the Team Trans Ice Hockey Draft in Middleton, Wisconsin.
In the video from the match last month, Maki is seen walking onto the ice and being knocked by another player. After that, the opposing player pauses to see how he is doing, and other players rush to his side as well.
"The contact doesn't look serious on video. But the size diff between players is so great that the female suffers a concussion," Jean Mazeks tweeted.
After being transported to a nearby hospital, a concussion was identified as Maki's condition.
It wasn't apparent whether the incident was a mistake.
Author Jonathan Kay stated in an article in the online new magazine Quillette that he did not see any transgender women specifically targeting transgender males when he watched videos from the event — but added that there were size differences that could be dangerous to some of the players.
According to research, biological women had significantly lower levels of head-neck segment stiffness (29%), isometric strength (49%), neck girth (30%), and head mass (43%), all of which increase the risk of injury in competitive hockey.
Later, Maki—who has since recovered—posted a statement online that seemed to minimize what had transpired on the ice.
"I've been debating if I should post everything about the @teamtransicehockey draft tournament, given the sensitive content, but here goes. I Had an amazing time with the wonderful people at the exclusive all trans draft tournament in Middleton, WI the weekend before Thanksgiving. This is where the sensitive content comes in: once out I was playing the puck, and I took a very odd fall into the boards, in which I needed medical attention to make sure my neck and extremities were okay."
He claimed to have strained his muscles and sustained a concussion, but insisted he'd do it all over again.