Texas Border Raid Uncovers Human Smuggling Operation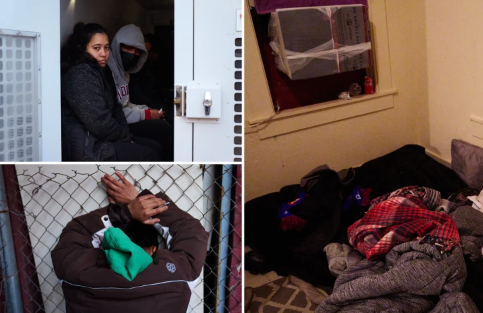 To dismantle cartel-run people trafficking networks, the Texas Department of Public Safety employs a variety of strategies, including air surveillance and operatives on the ground.
Both were sent out this week to raid a stash house in the center of the border city where 12 migrants who had entered the country illegally from Mexico were being housed.
A red Jeep was being driven down Country Club Road when one of the agency's pilots noticed it from above. The back end of the vehicle was tilting down due to the weight of all the individuals inside.
A DPS agent located the stash house, which in this case was a filthy one-bedroom, ground floor flat in a low-rise apartment complex, after following coordinates provided by a two-man helicopter team. "Vehicles that are loaded down like that are always a tell-tale sign they are stuffed with migrants," the agent said.
Empty Coca-Cola cans, rolled-up tin foil wrappers, and carelessly dumped clothing were also found inside the home. A half-empty jar of peanut butter was kept in the kitchen's empty refrigerator. On a stool, a white plush bunny with a smile lay abandoned.
As a safety measure because laces can be used as a weapon to strangle others or as a means of hanging someone while they are in custody, migrants are instructed to remove their shoelaces once they are caught by Border Patrol officials. These laces were all over the entryway.
Despite the chaos, there was some order in the bedroom closet, which had stacks of nicely folded trousers, sweatshirts, and T-shirts in addition to a variety of baseball caps and plastic drawers filled with undergarments.
The clothes are just for freshly arrived migrants, many of whom come drenched and caked in mud after wading across the nearby Rio Grande and miles of scrubland on their journey, according to DPS agents.
Uncertainty surrounds whether the dozen migrants held at the stash house had time to change after their trek. Early on Wednesday morning, the majority of the migrants were being placed onto a Border Patrol truck. According to DPS agents, the migrants were mostly from El Salvador, Guatemala, and Mexico.