School Official Removes American Flags But Leaves Pride Flag Alone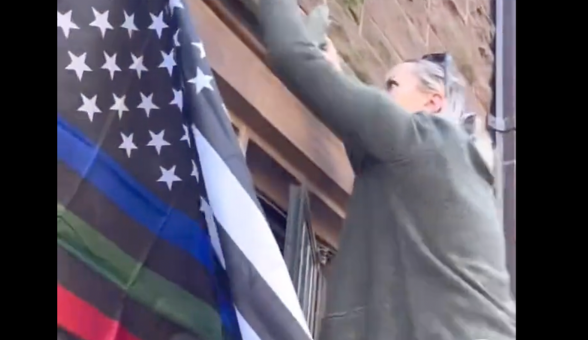 According to viral video footage uploaded to TikTok, school officials at Trinity College in Connecticut took down two patriotic flags that were flying from a student's dorm room while ostensibly permitting other students to fly Pride banners.
A "Don't Tread On Me" flag and an American flag with a blue, red, and green stripe designating police enforcement, firefighters, and federal agents were hung by two kids, respectively. The flags were taken down from the dorm on the direction of the self-described Director of Housing Operations, according to an allegation made by a school official. According to a video of the exchange, students protested the removal of the flags.
.@TrinityCollege forcibly removed a student's "don't tread on me" American Flag and a red, blue, and green line flag. Meanwhile pride flags are allowed to stay hanging. pic.twitter.com/AG892oaRyv

— Libs of TikTok (@libsoftiktok) October 31, 2022
The two students who were filming the discussion were told by the claimed administrator to go to the dean's office. The two said in the video that only the American flag and the "Don't Tread On Me" flag were forcibly taken down, even though other students had been told to take down their flags.
A commenter online pointed out that the college had previously flown Pride flags all around campus.
The Daily Caller was informed by Kristen Cole, senior director of media relations at Trinity College, that the dean was enforcing the Student Handbook.
Objects are not permitted to be placed outside of residence hall windows for safety reasons, according to the Trinity College Student Handbook.
No objects of any kind, including liquid, are permitted to be thrown, dropped, pushed out of, placed outside of, or let to fall from any residential building window, according to the manual. If found accountable, students will receive residential discipline.
Cole said that the incident demonstrated how the regulations are administered unevenly on campus.
"The event has highlighted the need for more consistent enforcement of handbook rules, and the college is working with the student body to create awareness and compliance. The dean's office will directly work with students for more consistent enforcement."