Senior WH Adviser Blames Trump For Rising Crime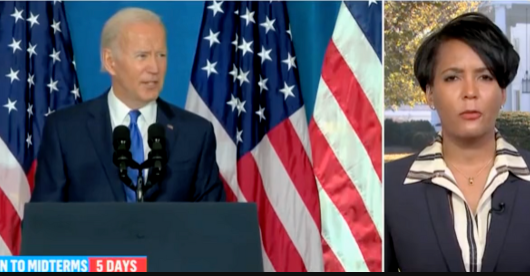 Keisha Lance Bottoms, a senior advisor to President Joe Biden, claimed on MSNBC on Thursday morning that the surge in violent crimes is attributable to the previous President Donald Trump.
When Bottoms joined "José Daz-Balart Reports," she was questioned about how the White House addresses complaints that it is not doing enough to discuss problems that are important to voters, like crime.
"Well, the president has been out on the road and if anyone has been paying attention they heard him speaking to the issues that are facing the American people and I also want to remind the American people that this uptick in crime was experience in 2020, this is when this began and the people know who was the president at the time."
José Daz-Balart questioned if she is claiming that President Trump is to blame for the rise in crime.
"I am saying that I served as mayor in 2020 and we experienced this uptick in crime in 2020. This is where it began, but that being said, it's not to place blame on any one person, but it is to say that there are many challenges facing the American people. The president's very aware of that but to lay blame at his feet for one challenge or another is I think really unfair."
A Gallup poll found that 49% of respondents rate the economy as their top priority, followed by abortion at 42% and crime at 40%. Voters continuously identified the problem of crime as one of their top priorities. Republicans outperform Democrats in terms of how they approach the issues of the economy and crime.
According to a new Harvard-Harris poll, crime is increasing countrywide, and 64% of Americans blame "woke politicians" for the problem. In contrast to other reasons, woke politicians were blamed by 52% of Democrats, 75% of Republicans, and 60% of Independents for the nation's historic spike in crime.
When compared to Republican-led cities, Democratic-led cities had greater rises in homicide rates between 2020 and 2022. For instance, Denver, Colorado, is expected to see a record-breaking number of homicides in 2022.
According to NYPD statistics, throughout the past year, there have been 32% more robberies, 38.5% more grand larcenies, 13.9% more felony assaults, and 10.9% more rapes in New York City.
Experts attribute the epidemic and the Black Lives Matter demonstrations as some of the reasons why crime did increase in 2020. According to FBI statistics, there were 30% more murders in 2020 than the year before. NPR reported that the pandemic had a negative impact on both the economy and public confidence in the police.