Russian Embassy Threatens Paper After Publishing Putin Meme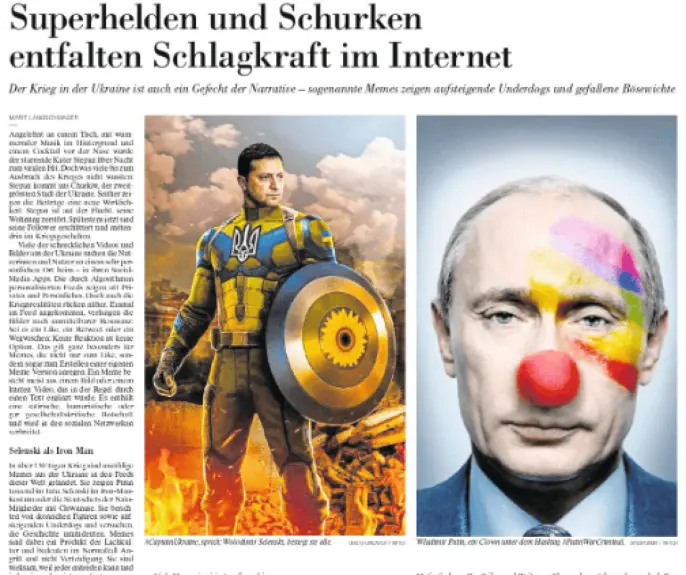 According to reports, the Russian embassy in Switzerland threatened legal action against a Swiss publication for publishing a cartoon depicting President Vladimir Putin with a clown nose and rainbow streaks down his face.
The graphic was published by the newspaper Neue Zürcher Zeitung in an article on July 9 discussing the significance of memes and digital messaging in Russia's invasion of Ukraine, according to a letter from the embassy's press department that was uploaded on its website on Saturday.
In the piece headlined "Between Superheroes and Villains: The Power of Memes in the Ukraine War," Putin is seen next to Ukrainian President Volodymyr Zelensky as Putin is dressed as a Captain America-style villain with a clown nose and rainbow paint.
"If we are speaking about clownery, it would be much more appropriate to touch on this topic in the context of the recent past of the former Ukrainian comedian V. Zelensky," the embassy wrote in a letter.
According to the Swiss publication, President Vladimir Putin's picture was first shared on Twitter.
Due to their apparent association with the LGBTQ population, Russia also took issue with the rainbow hues connected to Putin.
According to the embassy, Putin is an ardent Orthodox believer who supports the upholding of traditional Christian values in Russian culture and is obviously not a lover of the LGBT community.
"We believe that freedom of expression is in no way compatible with the freedom to disseminate insults and fakes," the Swiss news outlet remarked in a released statement.