Pentagon Denies DC Mayor's Request For National Guard Help With Migrants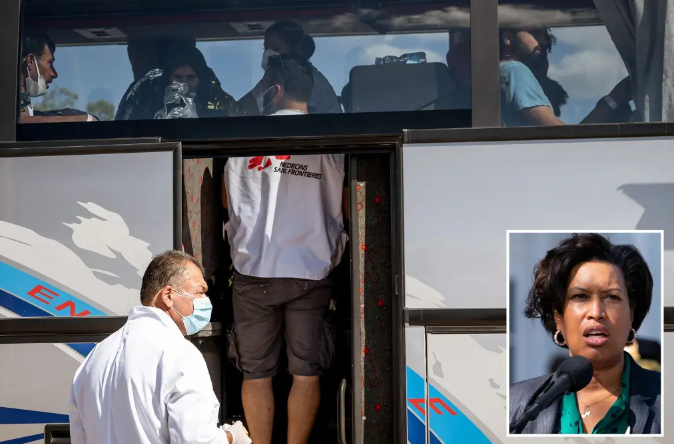 A second request by Washington, D.C., for the National Guard to be sent to the city to aid with an influx of migrants was rejected by the Pentagon.
Democratic Mayor Muriel Bowser was informed by Department of Defense Executive Secretary Kelly Bulliner Holly on Monday that the National Guard is unprepared to handle the crisis, which has been exacerbated by migrants bused in from Texas and Arizona to express their displeasure with the Biden administration's handling of the border crisis. After his initial plea for assistance from the National Guard was turned down on July 19, Bowser resubmitted his request on August 11 and claimed the department did not have a firm grasp of the problem.
Bowser's initial request was denied on August 4 by officials from the Pentagon, who cited grant money the city had received from the Federal Emergency Management Agency's Emergency Food and Shelter Program as a means of redress.
In her second request, Bowser emphasized that she was only asking for a 90-day deployment and stated that the National Guard might offer crucial logistical support to help alleviate the city's staffing issues amid the influx of migrants.
We are going to move forward with our planning to ensure that when people are coming through DC on their way to their final destination that we have a humane setting for them.

— Mayor Muriel Bowser (@MayorBowser) August 22, 2022
According to Gov. Greg Abbott's administration, Texas has bused nearly 7,000 migrants to Washington, D.C., and about 900 to New York City since April. According to Abbott, the action will ensure that the rest of America is aware of Texas's predicament in the face of a spike in border crossings. For the same reason, Arizona has also been busing migrants to the district this year. Many of the migrants who were detained at the border were released on humanitarian parole or with summons to appear in immigration court.
Bowser was adamant that the nation's capital would work with nongovernmental organizations and other federal agencies to help handle the immigration problem despite the Pentagon's denial. She also emphasized her support for statehood so that the mayor would be able to call in the Guard the next time the city was in a similar situation.