Officers DOWN After Car Drives Through Police Training Exercise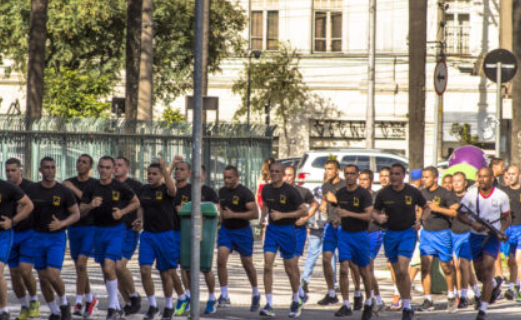 A vehicle can be seen speeding through a police training exercise with 25 recruits out jogging in horrifying video that was published from a nearby security camera.
A fast car ran over 25 law enforcement recruits who were out jogging in Los Angeles County this morning in the style of Darrel Brooks. No suspect's name has been made public as of yet.
According to the authorities, the injured include five people in critical condition, four people with moderate injuries, and 16 people with minor injuries. The car that was engaged in this event was being driven on the wrong side of the road when it struck the police enforcement recruits and then struck a light post.
25 law enforcement recruits out jogging in Los Angeles County this morning were run over Darrel Brooks-style by a speeding vehicle. A suspect name has not yet been released. pic.twitter.com/PiFrshxQsb

— Andy Ngô 🏳️‍🌈 (@MrAndyNgo) November 17, 2022
Investigators from the Los Angeles County Sheriff's Department and the California Highway Patrol are working together to look into an incident involving recruits from Sheriff's Academy Class #464 and a passing motorist that happened close to the intersection of Mills Avenue and Telegraph Road in the city of Whittier.
Several recruits still have critical injuries at this moment, and several recruits still have non-life-threatening wounds. We wish a full and quick recovery for everyone concerned.
The Department would like to express its gratitude to the neighborhood for the on-going support and prayers it has received for all those affected.
The Los Angeles event is merely the most recent instance of an automobile attack on innocent people. Darryl Brooks, who was responsible for the notorious Waukesha Christmas parade murder, was today given six consecutive life terms for his part in purposefully driving through a procession last December. Numerous others were hurt by his acts, and a number of people died, including young children and old grandparents who were dancing on the street when they were hit by his automobile. The jury reached a verdict in about three hours.
"I hope as I read my statement, you continue to roll your eyes. I hope you continue to laugh and just show how bored and unmoved you are by all of this, because I think that's important. It's important for the world to see that evil can be a tangible, living, breathing thing. I hope you rot in hell, have a miserable existence in prison and that someone teaches you a true lesson in asking for forgiveness," the victim said in a statement before the court.