NBA Announcer Suffers Medical Emergency Live On Air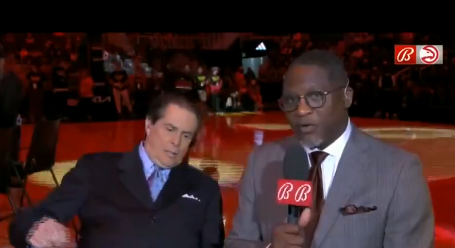 The play-by-play announcer for the Atlanta Hawk experienced a medical issue live on air.
While calling the Atlanta Hawks vs. Oklahoma City Thunder game, announcer Bob Rathburn began to shake and eventually passed out while the cameras were running.
Hawks Announcer Bob Rathbun suffering medical emergency. Pray for him. pic.twitter.com/PXO0ePR9Ny

— Bacon, Grits, Eggs (@reddawg77089) December 6, 2022
The Hawks have stated that Rathburn is currently in stable health and was only "dehydrated," according to the New York Post.
Court-side announcers must receive the COVID-19 vaccine in accordance with the NBA's stringent COVID-19 immunization policy.
The email states that the NBA has set a deadline of October 1 for team workers to be fully immunized and has left open the potential of requiring a booster shot at a later time.
All employees, including broadcasters, scoreboard operators, photographers, and security staff, who will work in close proximity to the court are subject to the rule. All back-of-the-house employees, such as those in charge of the restrooms, the medical team, the equipment managers, and the handlers and suppliers of food and drinks, are also necessary.
Atlanta Hawks guard Brandon Goodwin claims COVID-19 vaccine gave him blood clots https://t.co/SajB5XsKYn

— RIF ZAFZAFI (@7madrif) December 4, 2022
The Atlanta Hawks garnered media attention last season after guard Brandon Goodwin claimed that the immunization had ended his season.
Goodwin said during a Twitch stream that he received a blood clot diagnosis shortly after getting his vaccination.