Massive Crowd Erupts As FL Gov Comes On Stage At Concert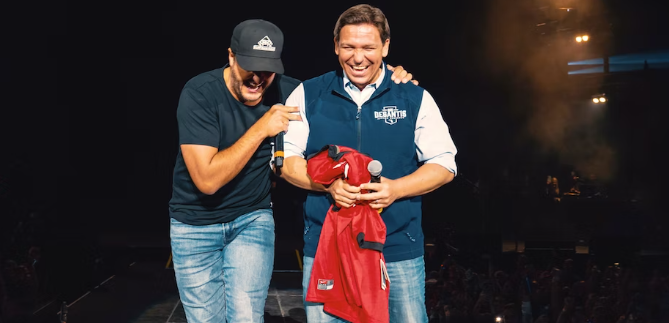 Friday night at a Luke Bryan performance, the audience cheered when the country artist invited Florida Governor Ron DeSantis (R) on stage to talk about the state's hurricane Ian recovery efforts.
Due to the hurricane, Bryan's performance in Jacksonville, Florida, which was a stop on his "Raised Up Right" tour, had been postponed numerous times in previous weeks.
"We're going to have some fun and we're gonna raise some money tonight for the great state of Florida. Ladies and gentlemen, welcome to the stage Governor Ron DeSantis."
Loud applause welcomed DeSantis when he entered the stage and threw hats into the audience.
DeSantis just walked out on stage at Luke Bryan. It's deafening in here. pic.twitter.com/WHelgPCxM1

— Bonnie Upright, APR (@bonnieupright) October 29, 2022
"All you Florida voters, if you want to keep the state of Florida free, we need you to vote on November 8th," the governor happily remarked.
After the governor finished speaking, the audience quickly began yelling "USA! USA! USA! "
According to DeSantis, the major hurricane that hit Florida last month was difficult to deal with and caused significant damage to many lives. DeSantis tacked on. "Though I can tell you this, show me any other state that can rebuild bridges in three days. I don't think you can find that."
DeSantis instructed people to give money to the hurricane victims through the Florida Disaster Fund after noting that more than $50 million had been raised to aid the victims.
Then Bryan declared that he will contribute the money from the performance in Estero, Florida, to the fund to aid the victims.
Bryan stated, "So, what we're going to do is give a large portion of the proceeds in Estero, Florida to everybody that's bought tickets, kept the ticket, and spent the money. I'm donating that money to the great state of Florida."
DeSantis later thanked him again over a Twitter post.
Thanks for letting me crash the party last night, @lukebryan! pic.twitter.com/GCuTELFOM9

— Ron DeSantis (@RonDeSantisFL) October 29, 2022