Democrat Challenger for FL Governor Compares DeSantis to Nazi Dictator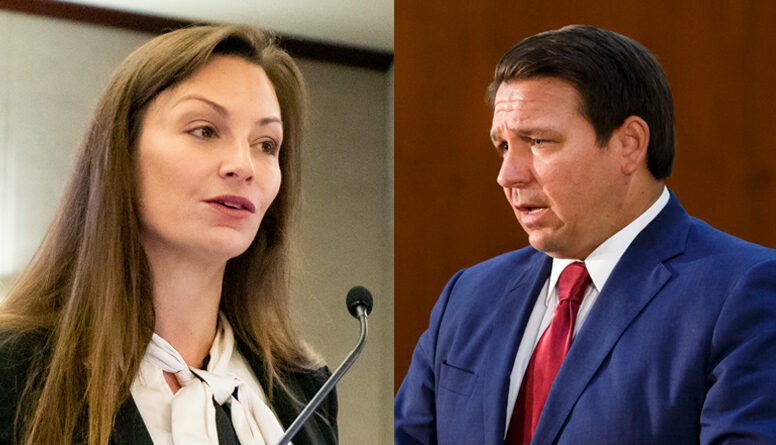 Former President Trump and Ron DeSantis are currently engaged in a verbal spat. DeSantis is gutless for refusing to declare whether he has taken the COVID booster, according to Trump.
DeSantis recently retorted that Trump lacked leadership by allowing Fauci to impose countrywide curfews. DeSantis previously said that the biggest mistake he made in Florida was adhering to Trump's imposed lockdowns for a short period of time.
With all of the conservative bickering, it's easy to forget that there's still a furious extreme left. The left despises DeSantis and is hell-bent on bringing him down.
Nikki Fried, a Florida Democrat and gubernatorial contender, is the ideal example of an airheaded, hate-filled bureaucrat who despises DeSantis wholeheartedly.
You won't believe her most recent allegation against DeSantis. This will go down in history.
Fried will run in this year's midterm elections to remove DeSantis, and she wants the public to be as afraid of him as possible. After all, he's done a fantastic job, and she'll need some convincing justifications to knock him down a notch.
That would normally entail criticizing his policies and presenting reasonable arguments about how she would govern the state differently. In the Democratic Party of 2022, however, it means referring to him as Hitler.
"Are you comparing DeSantis to Hitler?" the interviewer asked.

"In a lot of ways, yes," Fried said. "I have studied Hitler and how he got to power, you know, wanting his own militia." https://t.co/eH5snKcWcy

— ABC Action News (@abcactionnews) January 15, 2022
Fried claimed to be a disciple of Adolf Hitler, and she cited DeSantis' intention to reactivate the Florida State Guard, a civilian militia.
Although this citizen task force is tasked for responding to calamities and assisting Floridians, Fried sees echoes of Hitler's SA -Sturmabteilung, stormtroopers- in it.
There are already state guards in place in twenty two other states. Fried, on the other hand, believes DeSantis wants to make everyone terrified and then exploit fear to rise up and consolidate power.
Godwin's law is that the first person to mention Hitler and the Nazis in a debate loses. That's because it's so simple to make an emotive charge and feel like you've won some sort of moral competition.
Fried is a devoted Jew who understands that accusing someone of being like Hitler is no laughing matter. She went so far as to imply in the NPR interview that DeSantis is blaming specific groups for America's issues in the same manner that Hitler blamed Jews for Germany's difficulties in the 1930s.
Despite Fried's belief that DeSantis will not achieve the extent of power over Germany as Hitler did, she is concerned and feels he should not be in the governor's office.
Fried is well aware that his speech is quite hazardous. This kind of brazen language from the left demonstrates why they must be taken seriously.
Two US citizens were arrested in isolated South Texas after a multi-agency endeavor. They were suspected of transporting five migrants. After escaping from a U.S. The two smugglers led law enforcement police on a vehicle pursuit in La Salle County, Texas, that ended when the truck crashed onto train lines. Officers discovered a loaded firearm after searching the vehicle.
Agents from the Border Patrol sought to inspect a Nissan pickup vehicle at a permanent immigration roadblock on Interstate 35 north of Laredo early Wednesday. The alleged traffickers attempted to flee the checkpoint. When the vehicle became disabled while driving onto a railroad track, the chase came to an end.